Iranian President Mahmoud Ahmadinejad warned the European Union (EU) on Sunday against imposing unilateral sanctions, saying Tehran would react swiftly and cause "remorse."
"We do not welcome any tension or a new resolution. We seek logic and friendship," Ahmadinejad said in remarks directed at the EU, which were translated into English by the Press TV channel.
"I should tell you that anyone who adopts a measure against the Iranian nation, such as inspection of our ships and planes, should know that Iran will react swiftly," the hardliner said.
"Experience shows that such a reaction by the Iranian nation will cause remorse to it (the EU)," he added.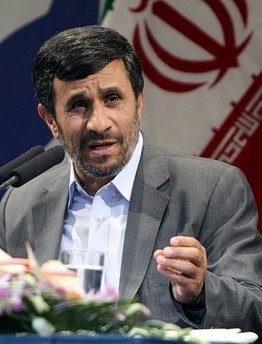 Iranian President Mahmoud Ahmadinejad, pictured in June 2010,
The EU will impose tough sanctions against Iran's vital oil and gas industries on Monday in a bid to lure Tehran back to the negotiating table over its disputed nuclear programme.
EU leaders and the United States decided to impose their own penalties against the Iranian energy sector soon after the UN Security Council levied its fourth set of punitive measures on June 9.
The sanctions are part of a twin-track approach with EU foreign affairs chief Catherine Ashton seeking to revive moribund talks between Iran and six world powers -- the United States, Britain, France, Germany, Russia and China.
Western powers have demanded that Iran suspend its uranium enrichment programme, fearing that Tehran would use the material to build a nuclear bomb. Tehran says its atomic programme is a peaceful drive to produce energy.
The new EU sanctions reportedly include a ban on the sale of equipment, technology and services to Iran's energy sector, hitting activities in refining, liquefied natural gas, exploration and production.
The EU will also ban dual-use goods that can be used for conventional weapons, and step up vigilance of Iranian banking, barring banks connected to Iran from opening branches.
Ahmadinejad warned that countries supporting the United States in its anti-Iran agenda will be considered as "hostile" towards the Islamic republic.
"Anyone who participates in the (anti-Iran) US scheme, we will consider them as hostile... and Iran will strongly respond to any threat" from them, the hardliner said.
Ahmadinejad, under whose presidency Iran's relations with the West have deteriorated, said that the US and its aides are "worried by Iran's progress."
"By launching a psychological war, they think they can halt the Iranian nation's progress," he said, adding that imposing sanctions was also part of a move to halt the nation's progress.
"They do not want Iran to reach the status it deserves," he added.