Parliament speaker Ali Larijani warned world powers Sunday that Tehran could "seriously decrease" its cooperation with the UN atomic watchdog after it demanded Iran halt work on a second nuclear plant.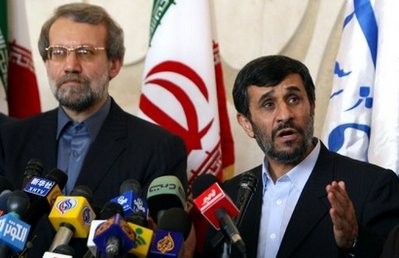 File picture shows Iranian President Mahmoud Ahmadinejad during a joint press conference with Parliament Speaker Ali Larijani (L). (AFP Photo)
Larijani told the conservative-dominated parliament that Washington and other members of the P5-plus-1 group, who are in talks with Tehran over its nuclear programme, must change their approach towards Iran.
"The Iranian parliament warns the US and other members of the five-plus-one group not to think that such kind of outdated games will give you a chance for haggling," said Larijani, who was previously Iran's chief nuclear negotiator.
"Do not make the parliament and the Iranian nation choose another path and seriously decrease cooperation with the IAEA."
The International Atomic Energy Agency (IAEA) on Friday demanded that Iran halt construction of a new uranium enrichment facility near the Shiite holy city of Qom, known as Fordo, and urged increased cooperation from Tehran on nuclear issues.
Larijani, who has repeatedly accused the West of trying to "trick" Iran in negotiations over an IAEA-drafted nuclear fuel deal, repeated the charge in his address to parliament.
"This negotiation shows that they (world powers) are not seeking a dialogue, but are seeking to commit a political swindle because (they) should have welcomed Iran's early announcement of the Fordo plant and not use it as a pretext to issue a resolution," he said.
Iran's disclosure of the plant to the IAEA on September 21 triggered widespread outrage in the West while the UN atomic watchdog said Tehran was on the "wrong side of law" by not declaring its existence earlier.
Iran insists it has broken no IAEA regulations in the timing of the disclosure, as no nuclear material had yet been introduced into the facility.
Iran has also irked world powers by rejecting a nuclear fuel deal brokered by the IAEA.
The deal envisages shipping out Iran's low-enriched uranium (LEU) abroad for converting into fuel required for a reactor in Tehran.
Iran insists it is ready to send out its LEU only if there is a simultaneous exchange of the fuel inside the country.
Larijani said Iran has now become "alert" following the IAEA resolution.
"We will carefully monitor your further actions and if you do not give up this ridiculous policy of carrot-and-stick, then we will come up with a new approach towards you," he said directing his fury at Washington which has advocated a policy of dialogue with Tehran but has also not ruled out new sanctions against the Islamic republic.
The IAEA's resolution on Friday saw China and Russia, which have close links with Iran, joining forces with Britain, France, Germany and the United States.
Twenty-five nations on the 35-member IAEA board voted for the censure, which was the first against Iran since February 2006. Only Venezuela, Malaysia and Cuba voted against.
Western powers have long suspected that Iran, despite its fierce denials, is trying to build a nuclear bomb. But in the past they have struggled to get diplomatic backing from China and Russia.
Tehran dismissed the resolution as "theatrical and useless" while its ambassador to the IAEA, Ali Asghar Soltanieh, said it created a "confrontational environment."