Iran and world powers on Monday held new talks on a uranium enrichment deal which UN watchdog chief Mohamed ElBaradei said got off to a "constructive" start though no breakthrough was announced.
"We had this afternoon quite a constructive meeting. We're off to a good start. Most of the technical issues have been discussed," ElBaradei said after a meeting between Iran, France, Russia and the United States.
The meeting at the International Atomic Energy Agency headquarters on a proposal for Russia and France to enrich uranium for Iran was to resume on Tuesday, he added.
Iran has 1,500 kilogrammes of low-enriched uranium at its plant in Natanz, in defiance of three rounds of UN sanctions to back demands that it halt all enrichment activity. Related article: Uranium enrichment explained.
But it needs a higher level of enrichment to run a research reactor in Tehran, which makes isotopes needed for medical use such as cancer treatment.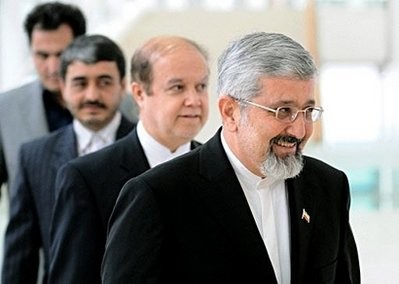 Iranian Ambassador to the International Atomic Energy Agency (IAEA) Ali Asghar Soltanieh (R) arrives at the meeting of representatives from France, Iran, Russia and the United
Western powers suspect Iran has embarked on research to build a nuclear bomb. Iran has denied the claims but has been accused by the IAEA of not cooperating with IAEA efforts to determine whether its atomic programme is peaceful.
Coming out of the meeting, the head of the Iranian delegation, Ali Asghar Soltanieh, said little about the closed-door negotiations. "I endorse what the DG (director general ElBaradei) said," was all Soltanieh would say.
He refused to comment on Iranian media reports claiming that Tehran had refused to talk with France directly.
Under the proposal, Iran will be required to hand over most of its uranium which many Western nations say is being built up to develop a nuclear bomb.
Diplomats have described the uranium proposal as a "win-win" solution: the Iranians would get the fuel they needed, while at the same time, Western fears would be allayed that the material could be used to make a bomb.
Before the talks, Tehran vowed to step up it uranium enrichment if it does not get what it wants from the negotiations.
Iran Atomic Energy Organisation spokesman Ali Shirzadian was quoted by the official IRNA news agency as saying that Iran would keep on enriching uranium up to the five percent level.
"But if the negotiations do not yield the desired results, Iran will start enriching uranium to the 20 percent level for its Tehran reactor. It will never give up this right," the spokesman added.
Shirzadian said the third-party enrichment deal was a "test for the Western powers to show how honest they are in their commitments," he said.
The IAEA's deputy director general for external relations and policy coordination, Vilmos Cserveny, will host the new talks Tuesday.
The US delegation is headed by Deputy Energy Secretary Dan Poneman and includes Washington's envoy to the IAEA, Glyn Davies.
France's IAEA governor Frederic Mondoloni led his country's delegation and Russia's deputy atomic chief Nikolay Spassky headed the team from Moscow.
The talks are the latest attempt by the international powers to restrict Iran's nuclear drive. The UN Security Council has already imposed three rounds of sanctions on Iran for refusing to stop its enrichment.
Britain, China, France, Germany, Russia and the United States have led the talks with Iran which resumed on October 1 in Geneva after a 14-month hiatus.
Iran agreed during the talks in Geneva to consider sending low-enriched uranium abroad for further purification and subsequent return to Iran.
Western powers have threatened to move for more sanctions unless Iran falls in line with UN resolutions.
Monday's talks came amid a new spat as Iran accused the United States, Britain and Pakistan of involvement in a suicide bombing which killed 42 people including seven Iranian military commanders in southeastern Iran.