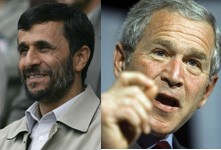 Iran President Ahmadinejad (L) and US President George Bush(AFP Photo)
"President Ahmadinejad has written a letter to George Bush, which is to be handed to the Swiss embassy," government spokesman Gholam Hossein Elham told reporters.
It is the first time an Iranian president has been known to officially communicate with an American president since Washington and Tehran cut off diplomatic relations in 1980.
"In this letter, while analysing the world situation and finding the roots of the problems, he has proposed new ways for getting out of the existing vulnerable world situation," the spokesman said.
Foreign ministry spokesman Hamid Reza Asefi told the ISNA news agency that "once the American president has received the letter, its content will be made public".
The United States and Iran are at loggerheads over Tehran's nuclear programme which Washington suspects is a cover for ambitions to build atomic weapons. Bush has also not ruled out taking military action against the Islamic republic.
Washington also accuses Iran of supporting "terrorist" groups across the Middle East region.
Washington has not had diplomatic relations with Iran since April 1980, following the seizure of the US embassy in Tehran in 1979 in which 52 Americans were held for 444 days.
A source in Ahmadinejad's office told AFP the letter would be handed to the Swiss embassy on Monday.
The Swiss government assumed the representation of US interests in Iran in 1981, and has since been acting as a conduit for messages between the two arch-enemies.
According to diplomatic sources, communications via the Swiss embassy in Tehran had up to now been between the Iranian foreign ministry and the US State Department.
Diplomats from both sides have also held confidential meetings in the past, most recently following the defeat of Afghanistan's Taliban and prior to the US-led invasion of Iraq.
Source: AFP