TEHRAN, Sept 30, 2009 (AFP) - Iran's chief nuclear inspector Wednesday said he was heading for potentially make-or-break talks with world powers on Tehran's controversial nuclear programme with a "positive approach."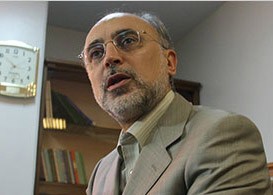 Iran's atomic energy chief Ali Akbar Salehi
"We are going to Europe for this negotiation with a positive approach and I hope this is an opportunity for others also," he told reporters at Tehran airport before leaving for the negotiations in Geneva.
Atomic energy chief Ali Akbar Salehi had said Iran is ready to discuss world concerns about its previously undisclosed second enrichment plant, but insisted there can be no bargaining about Iran's right to master the nuclear fuel cycle at long-awaited talks with major powers on Thursday.
Disclosure to the International Atomic Energy Agency last week of the plant cast a shadow over the talks in Geneva, with Washington calling on Tehran to agree to "immediate, unfettered access" by IAEA inspectors.
Uranium enrichment is the sensitive process that lies at the centre of Western concerns over Iran's nuclear programme, which Britain, China, France, Germany, Russia and the United States want the Geneva talks to address.
The process can produce the fuel for nuclear power or, in highly refined form, the fissile core of an atomic bomb.
The UN Security Council has imposed three sets of sanctions against Iran over its failure to heed repeated ultimatums to suspend enrichment.
Iranian Foreign Minister Manouchehr Mottaki meanwhile told UN Secretary General Ban Ki-moon that Tehran would not give up its "right" to nuclear technology.
"Iran in defending its absolute right to devekop civilian nuclear technology will never bow under political pressure. Iran will never renounce its right to develop civilian nuclear technology," he said, according to Irna news agency.