A bomb outside a mosque frequented by provincial officials in central Iraq followed by a suicide attack against a hospital where victims were being treated killed at least 21 people on Friday.
The attacks came a day after a spate of coordinated bombings in west Iraq killed 10 people, raising questions over the capabilities of Iraqi security forces with just months to go before all US forces must pull out.
Friday's violence in Tikrit, 160 kilometres (100 miles) north of Baghdad, also left 74 people wounded, including two members of Salaheddin provincial council, a senior policeman and a judge.
"We have received 19 dead bodies, and have treated 72 others who were wounded," Walid al-Duri, a doctor at the city's main hospital, said of the toll from the first blast as worshippers were leaving a mosque in central Tikrit on the main Muslim day of prayer at 12:45 pm (0945 GMT).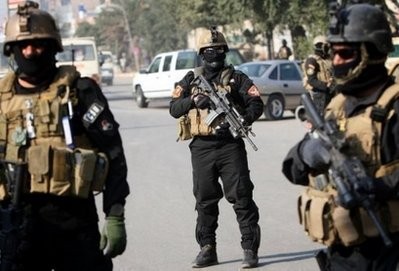 Iraqi anti-terror police guard a checkpoint in Baghdad
The bomb was hidden inside a fuel canister at the entrance to the mosque, where provincial officials often attend prayers.
A subsequent suicide attack inside the hospital where the victims were being treated killed two people and wounded two others, a security official and a doctor in Tikrit said, both speaking on condition of anonymity.
An interior ministry official in Baghdad put the toll from the first attack at 17 dead and 50 wounded, with six people were killed and 10 others wounded in the suicide bombing.
The provincial security command centre imposed a ban on movement in the city, put in place before the hospital explosion.
Friday's violence was the worst in Tikrit since a March 29 Al-Qaeda raid on the city's provincial council offices, which led to a bloody hours-long gun battle with security forces that left 58 people dead.
In mid-January, a suicide bomber killed 50 people in a crowd waiting outside a police recruitment centre in the city, the first major strike in Iraq after the formation of a new government in December.
Tikrit was the hometown of now executed dictator Saddam Hussein and is the capital of mainly Sunni Arab Salaheddin province, which was a key battleground in the insurgency that followed the US-led invasion of 2003.
Friday's violence came just hours after at least three explosions killed 10 people and wounded 15 others in the western Iraqi city of Ramadi on Thursday evening, security officials said.
Ramadi has frequently been the target of attacks in previous months.
The two days of violence raise questions over the ability of Iraqi forces to secure the country, with 45,000 American troops due to withdraw at the end of the year under the terms of a bilateral security pact.
Iraqi leaders are still considering whether to request an extension of the US military presence, and top American officials have pressed their Iraqi counterparts to decide soon.
US forces in Iraq are charged primarily with training and equipping local forces, but they still take part in joint counter-terror operations.
Violence in Iraq is down from its peak in 2006 and 2007, but attacks remain common. A total of 177 people died in May as a result of violence, according to official figures.