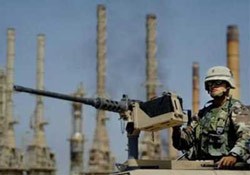 US soldier controls Oil Refinery Baiji
The inauguration of a new Iraqi joint military command has been postponed because of a disagreement about how to define its relationship with US forces, a US military spokesman said Sunday.
The headquarters was due to have been declared open on Saturday at the defence ministry in Baghdad in the presence of senior Iraqi and coalition officers, but the ceremony was cancelled at the last moment.
"The ceremony was postponed in order to clarify language in the memorandum that delineates coalition support and responsibilities to the new Iraqi Joint headquarters," US spokesman Lieutenant Colonel Barry Johnson said.
"The major points and substance of the agreement are not in question. However, there is specific wording that needs to be refined," he added.
"The decision was made to postpone the ceremony rather than conduct it without the document being fully ready for signature by all those concerned.
"Postponing the ceremony has no impact on ongoing operations and we expect the document to be signed within a few days," Johnson said.
Once it is up and running, the new Iraqi headquarters will gradually assume operational command of Iraq's 115,000-strong army, which is currently overseen by US headquarters.
Source: AFP