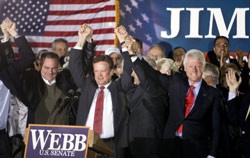 Former US president Bill Clinton (R) greet the crowd during a political rally for Democratic US Senate candidate Jim Webb (C), Nov. 6, 2006 in Alexandria, Virginia (AFP Photo)
Americans vote Tuesday in congressional elections shrouded by carnage in Iraq, with Democrats hoping to punish President George W. Bush and fracture his Republican Party's monopoly on power.
Both sides hope that the grudging campaign soured by vicious mudslinging over the war could produce a landmark result that would shape Bush's last two years in the White House.
Democrats have high hopes of recapturing the House of Representatives for the first time since 1994 and also nurture an outside chance of taking the Senate.
Bush supporters however cheered late polls showing a narrowing of a race shaping up as a referendum on the troubled US occupation of Iraq, where more than 2,800 US troops have died.
"I knew we were going to finish strong," Bush roared in a fraying voice at a final day campaign rally in Pensacola, Florida.
"Republicans are going to turn out and it's going to be a great victory."
But Democrats insisted they were on course to avenge a string of stinging electoral drubbings by Republicans.
"We offer a fresh start and a new direction, but each and every Democrat must get to the polls to make our vision a reality," said Democratic National Committee chairman Howard Dean in a message to supporters.
Most national polls and experts gave the Democrats a good shot at regaining the House. They also suggest a net gain of two seats, Ohio and Pennsylvania, in the Senate.
Control of the upper chamber hinges on the Democrats sweeping all four toss-up races in Virginia, Rhode Island, Missouri and Montana.
"It's a tough battle ... But we're right on the edge," Democratic Senator Charles Schumer told CNN television.
To capture the House the Democrats need a net gain of 15 seats.
The key to the election in too-close-to-call districts is how many core supporters and independent voters show up to cast ballots Tuesday.
The Republicans unleashed their fearsome get-out-the-vote machinery as both parties swamped key districts with volunteers, phone banks and last minute partisan advertising.
Some 200 million Americans are eligible to vote in the elections for all 435 seats in the House of Representatives, 33 in the Senate and for 36 state governors.
First polling stations in east coast states, including New York, Connecticut and New Jersey, open at 6:00 am (1100 GMT). The last polls close in far western Alaska at 0500 GMT. Results are not expected until well into Tuesday evening.
Bush and wife Laura will vote in the president's adoptive hometown of Crawford, Texas, early Tuesday before returning to Washington to await the results.
Bush blasted Democrats Monday over their calls to withdraw from Iraq, telling voters to ask the opposition party: "What's your plan?"
"If they say they want to win the war on terror, but call for America to pull out from what Al-Qaeda said is a central front in this war on terror, ask them (this) simple question," he said at an Arkansas rally.
"They can't answer it. Harsh criticism is not a plan for victory. Second-guessing is not a strategy," he said of the Democrats.
"If you want this country to do everything in its power to protect you and at the same time lay the foundation of peace for generations to come, vote Republican," he added.
Democrats say Bush and the Republican majority are in denial over Iraq as US troops continue to die and chaos envelops the country.
"It has become clearer than ever that our current course in Iraq is unsustainable," former presidential candidate General Wesley Clark said Monday, urging Democrats to "stand up and be counted" on Iraq.
"People fundamentally want a real change in how we're doing business in Washington, a change in our foreign policy," Ned Lamont, Democratic candidate for the Senate in Connecticut, said at a campaign rally Monday.
Republicans were cheered Monday by surveys suggesting the gap between parties was closing.
A Washington Post and ABC television poll showed likely voters favoring Democrats to Republicans by 51 percent to 45 percent. In an October 22 survey, the Democrats had led 55-41.
The non-partisan Pew Research Center found a 47-43 lead for Democrats among likely voters, down from 50-39 two weeks ago.
Though Iraq has been the primary campaign issue, voters are also preoccupied with health care, "values" issues like stem-cell research, gay marriage and abortion, the economy and illegal immigration.