An Iraqi-Kurdish drama centred around a wartime football match and a South Korean film about the wanderings of a third-rate poet took top honors at Asia's premiere film festival Friday.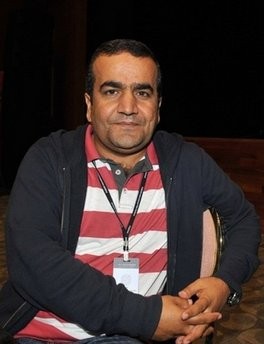 Iraqi Kurdish director Shawkat Amin Korki is seen posing for a photo during a presentation at the 14th Pusan International Film Festival (PIFF) in Busan, on October 12.
Shawkat Amin Korki's "Kick Off" and So Sang-Min's "I'm In Trouble" were each handed the 14th Pusan International Film Festival's New Currents award, which gives out two prizes of 30,000 dollars each to films made by first- or second-time Asian directors.
Jury chairman Jean-Jacques Beineix said Korki's film -- set in the Kurdish city of Kirkuk after the US-led invasion of Iraq in 2003 -- revealed "the great desire of his people to live, their ingenuity and struggling spirit".
Beineix, the French director of cult hit "Betty Blue", said Korki's second feature "consecrates the emergence of a director whose talent is unanimously greeted by the jury".
"I am immensely proud," Korki said. "I hope this award is an inspiration to other Iraqi filmmakers and it will help the film industry back home get back on its feet."
The South Korean festival classes the Middle East as part of the Asian region.
"Kick Off" was also named the festival's best movie in a separate award handed out by the International Federation of Film Critics.
The film is based on a true story that emerged from Kirkuk soon after the US invasion.
A young boy, who had been among the hundreds taking refuge in the Kurdish city's main soccer stadium, began organizing football matches to help lift the spirits of scared and demoralized locals.
Beineix said So's debut -- a gentle comedy about a poet who struggles to find love -- left the jury "under the spell of the (film's) discreet, funny and powerful charm".
The festival this year also handed out its first-ever award for international films, the 20,000 dollar Flash Forward prize, to debut Finnish director Zaida Bergroth for the family drama "Last Cowboy Standing".