The owner of Arrai TV, famed for being the only media outlet still in contact with Moamer Kadhafi, opposes dictators but says the ousted Libyan leader embodies resistance against foreign occupation.
Damascus-based Iraqi Sunni former MP Mishan al-Juburi has been the only person who has been able to contact Kadhafi since he went into hiding after forces of the National Transitional Council (NTC) took the capital Tripoli.
"When I need to talk to him, I send him a message, or he contacts me when he wants to pass a message," Juburi told AFP by telephone.
"The object of this channel, which I launched in 2006, is to fight against all occupations, whether in Iraq, Palestine or now in Libya," the 54-year-old said.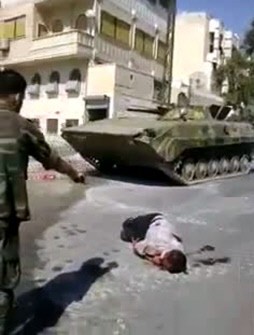 An image grab from footage uploaded on YouTube on September 7, 2011, shows what Syrian anti-regime activists say is a pro-government militia member dressed as a soldier allegedly firing his weapon at the corps of a man in the city of Homs on September 5, 2011.
"We supported the revolutions in Tunisia and Egypt, as these were against dictators. This infuriated Kadhafi, who six months ago sent me a very direct message that if I continued to attack (Egyptian president Hosni) Mubarak, he would blow up the station, but I ignored the threats," he said.
"But now we must recognise that Moamer Kadhafi represents the resistance of the Libyan people against NATO aggression, and that is why I support him," said the owner of the only Arab channel to come out in favour of Kadhafi.
The talkative Iraqi businessman has a controversial past.
He belongs to a large tribe and is from Salaheddin, the province in which now-executed dictator Saddam Hussein was born. He worked for the Baath party daily Al-Thawra, which was then headed by Tareq Aziz.
Aziz, who later became Iraq's deputy premier under Saddam, was sentenced to death in October for "deliberate murder and crimes against humanity."
After four years with Al-Thawra, Juburi turned to more lucrative activities, directing an import-export company.
"At 28 years old, I had around $100 million," he told AFP in a 2005 interview.
"I left all of that money, my palace, my job, and left the country to join the opposition in December 1989," he said, citing his implication in an assassination attempt against Saddam.
A former Baath official cited more prosaic motives, particularly a financial dispute with Uday, Saddam's eldest son.
In the 1990s, Juburi wandered between France, Egypt, Britain, Jordan and Turkey before eventually settling in Syria until the fall of the Iraqi regime in 2003.
Thanks to his tribal relations, he negotiated the entrance of American and Kurdish combat forces into the north Iraq city of Mosul.
"On April 10, 2003, I liberated Mosul," proclaimed Juburi, who became the governor of Nineveh province, of which Mosul is the capital, for a few months.
In March 2005, Shiite parliamentarians refused to vote for him as speaker of parliament, and a month later the man who said he wanted to "represent an insurrection in parliament" escaped a suicide bombing against his convoy.
At the end of 2005, he fled to Syria when he was charged with stealing millions of dollars that he had been paid to protect oil pipelines near Kirkuk, which were the target of attacks.
He launched Al-Zawra channel, and later Arrai, which defended Iraqi insurgents and referred to them as "freedom fighters."
Asked about Kadhafi having financed the channel, he replied: "He promised me a fortune when I started, but I have almost nothing," citing a $400,000 satellite payment, another for $300,000, and a third for an amount he could not remember.
Juburi said he met Kadhafi three times -- in January 2007, March 2008 in Damascus and in 2009 in Tripoli.
He said on Wednesday that Kadhafi and his son Seif al-Islam are still in Libya, and are in "good spirits."
"I can tell you that I spoke with Kadhafi very recently. He is in Libya, in very good spirits, feels strong, is not afraid, and would be happy to die fighting against the occupiers," he told AFP.
He also added an assessment of the situation in Syria, which France accused of "crimes against humanity" on Wednesday, as activists said President Bashar al-Assad's forces killed at least 20 people.
"Don't trust what the media says," Juburi advised. "The situation is improving."