BAGHDAD (AFP) – Iraqi leaders were set to come under fire Wednesday, having failed to prevent a spate of attacks in Baghdad that killed 127 people, the third major set of bombings to hit the capital since August.
The blasts undermined the government's claims of improved security and MPs quickly demanded that Prime Minister Nuri al-Maliki and the government's security ministers answer for any failings that led to the attacks.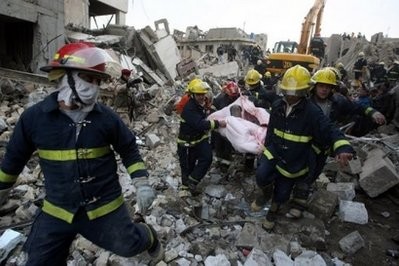 Iraqi rescue workers remove a body at the scene of a bomb blast near the Finance Ministry in Baghdad. (AFP photo)
The United States, United Nations, Arab League and Britain, meanwhile, led international condemnation of Tuesday's bombings, with UN chief Ban Ki-moon calling them "horrendous" and "unacceptable."
Interior Minister Jawad al-Bolani, whose department is responsible for police forces across Iraq, welcomed being questioned by lawmakers in the Council of Representatives over the attacks, which a senior security spokesman said bore "the touch of Al-Qaeda."
"I am ready to go to parliament on the condition that the session be public," Bolani told AFP.
The bombings all struck Baghdad within minutes of each other on Tuesday morning.Related article: Emergency workers soldier on.
One suicide attacker detonated his payload at a finance ministry office, another struck at a tunnel leading to the labour ministry and a third drove a four-wheel-drive car into a courthouse.
A fourth suicide bomber in a car struck a police patrol in Dora in southern Baghdad, causing 15 deaths, 12 of them students at a nearby technical college, an interior ministry official said.
Another car bomb hit interior ministry offices in central Baghdad.
An interior ministry official said 127 people had been killed and 448 wounded in the bombings.
Maliki called Tuesday's attacks a "cowardly" attempt "to cause chaos... and hinder the election," and said they were deliberately timed to come after MPs on Sunday agreed on a new electoral law.
He blamed "foreign elements" who backed Al-Qaeda.
The courthouse bombing destroyed a large part of the building, with falling concrete killing several people, emergency workers said.
Mangled wrecks of cars, some flipped on their roofs, lined the street opposite the courthouse, and several parked vehicles were crushed by collapsed blast walls.
Near the finance ministry, several houses were completely destroyed and a two-metre (6.5-foot) deep crater marked the site of the explosion.
Although no group has yet claimed responsibility, the timing of the blasts and the fact that three targeted government buildings suggested an Al-Qaeda operation.Related article: Recent bloodshed in Iraq
"This has the touch of Al-Qaeda and the Baathists," Major General Qassim Atta, spokesman for security operations in Baghdad, told AFP, referring to the outlawed Baath party of now executed dictator Saddam.
Both groups were blamed for bloody attacks -- including truck bombings of the finance, foreign and justice ministries -- in Baghdad in August and October that killed more than 250 and punctured confidence in Iraq's security forces.
"Such attacks are war crimes," London-based rights group Amnesty International said in a statement.
Those caught up in the devastation described scenes of horror.
"I heard the sound of the explosion, I fainted, then I found myself on this bed covered with blood," Um Saeed, who was wounded in the face and arms by the courthouse blast, told AFP at a local hospital.
Jamal Amin, who works at a restaurant near the finance ministry, said: "I was standing in front of the restaurant. People started to shout, 'suicide bomber, suicide bomber!'
"I saw a mini-bus, and then the explosion happened and I lost consciousness. I woke up in the hospital."
An official at Medical City hospital said many of the 39 bodies they had received "had been blown apart."
Violence across Iraq dropped dramatically last month, with the fewest number of deaths in attacks recorded since the invasion in 2003. Official figures showed a total of 122 people were killed in November.
Both the Baghdad government and the US military have warned of a rise in attacks in the run-up to the election.
Presidential chief-of-staff Nasser al-Ani told Iraqi state television on Tuesday the election will be on March 7, after the presidency council said earlier that March 6 had been chosen as the date for the vote.
Despite Tuesday's attacks US forces remain on track to begin withdrawing from Iraq in large numbers next year, the top US military officer said.
Admiral Michael Mullen, the chairman of the Joint Chiefs of Staff, told reporters that while the withdrawal of US forces in Iraq was "on a balance" with the buildup in Afghanistan, nothing that has happened so far would upset plans.