A senior Iraqi official was quoted on Thursday as saying the government was holding talks with some major insurgent groups that might be nearing a point where a number would join forces against al Qaeda.
Saad Yousif al-Muttalibi, director of international affairs in Iraq's National Dialogue and Reconciliation Ministry, said the talks were designed to help drive al Qaeda out of the country.
"We've already established links and contacts with major insurgent groups," Muttalibi told the BBC, according to a report on the broadcaster's Web site.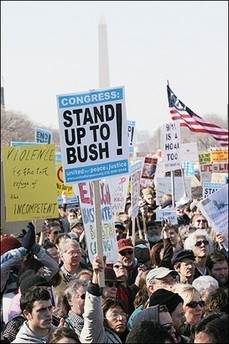 A rally against the war in Iraq held in America.
"One of the aims is to join with them into the fight against al Qaeda. We are almost getting there and to join forces to attack al Qaeda to get them out of Iraq," he said.
No Iraqi officials were immediately available for comment on the report.
Insurgents draw support from Iraq's Sunni Arab minority, once dominant under Saddam Hussein.
Iraq's western Anbar province has been a hotbed for the insurgency but since last September there has been a mounting power struggle in the area between al Qaeda, which has non-Iraqi Arabs as its leaders, and fellow Sunnis who oppose the group.
Mounting sectarian violence between Sunnis and the majority Shi'ite Muslim community has become an additional security concern in Iraq.
Shi'ite Prime Minister Nuri al-Maliki has ordered a major crackdown against insurgents and sectarian violence in Baghdad.
U.S. President George W. Bush is sending about 26,000 more U.S. troops to Iraq, mainly to back the crackdown in Baghdad.