Iraqis living abroad began casting ballots in their homeland's crucial parliamentary elections Friday, the second for a full parliamentary term since the 2003 U.S.-led invasion ousted Saddam Hussein.
Hundreds stood in lines at stations in Syria, home to the largest Iraqi expatriate community, and voting was also being held in neighboring Jordan and more than a dozen other countries around the world, from Australia to the United States.
The United Nations refugee agency estimates that around 2 million Iraqis are living abroad — the majority of whom fled violence following the 2003 U.S.-led invasion.
Iraq's Sunni Arab minority has been particularly attentive to the out-of-country voting, especially in neighboring Syria and Jordan — in the belief that many of the potential voters there are Sunnis who fled the sectarian violence. Sunnis are hoping a strong turnout among their community will counterbalance what many expect will be a strong vote among the Shiite majority for their own religious parties.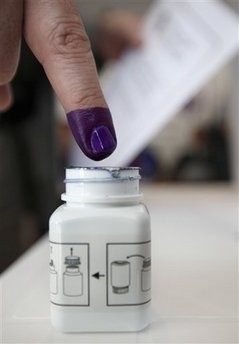 An Iraqi man, inks his finger after casting his vote at a polling center in Beirut, Lebanon, on Friday March 5, 2010.
Voting abroad will be held for three days, while in Iraq most voters go to the polls on Sunday, choosing a 325-seat legislature. The largest bloc in parliament will try to put together a government to lead Iraq for four key years as U.S. troops withdraw.
Among the first to vote at Damascus' Arab Cultural Center, one of 23 stations around the country, was Samir al-Abdali, a 56-year-old refugee who said he voted for Iraqiya, a secular list that includes both Shiites and Sunnis. Among its leaders are Sunni Vice President Tariq al-Hashemi and former Prime Minister Ayad Allawi, a secular Shiite.
The government of Shiite Prime Minister Nouri al-Maliki "hasn't done anything for Iraq," al-Abdali said shortly after voting with his wife and daughter.
The issue of out-of-country voting nearly derailed the election when al-Hashemi vetoed an early version of the election law because he said it did not treat votes by Iraqis living abroad as equal to those within the country. The issue was eventually resolved but highlighted just how important Sunnis view the out-of-country voting.
During a Baghdad news conference earlier this week, the U.N.'s representative in Iraq, Ad Melkert, sought to dampen expectations about a large turnout abroad.
He noted that not only do Iraqis have to document their Iraqi nationality but they also have to document the province they come from — a potentially harder task for people who fled their homeland, sometimes without all of their belongings.
Syria is known to be home to many members of Saddam's Baath party who oppose the Iraqi government.
Zuhair Abdullah, a former Baathist, blasted the elections as "illegal and illegitimate because they are conducted under the U.S. occupation." yet he said he would participate to support what he called "nationalists" over the "sectarians".
In addition to Syria, voting is starting Friday in the United States, Canada, Australia, Austria, Sweden, Germany, Britain, Denmark, Holland, Iran, the United Arab Emirates, Egypt, Jordan, Lebanon and Turkey. The balloting will go on for three days.