DUBLIN (AFP) – Ireland's government was in tatters Monday after the junior coalition partners pulled out, as politicians were set to start talks on a finance bill vital to securing an international bailout.
The Green Party announced Sunday they could no longer continue in government with the larger Fianna Fail party, wiping out the government's slim majority and meaning elections called for March 11 would likely be brought forward.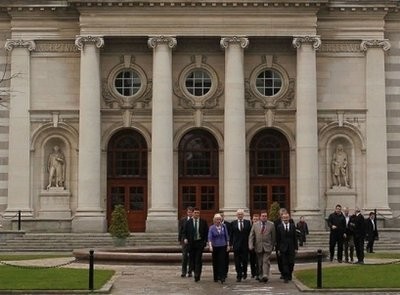 AFP - Ireland's Green party walks out of the government buildings after announcing that they can no longer continue in Government in Dublin, Ireland.
It came after Prime Minister Brian Cowen bowed to pressure and resigned as Fianna Fail leader Saturday following a week of political chaos that started with a leadership challenge from his own foreign minister.
The development deepens the political crisis sparked by Dublin's acceptance of a bailout from the European Union and International Monetary Fund in November following the country's financial meltdown.
Announcing the party's decision to withdraw from the coalition, Green leader John Gormley told reporters in Dublin that "our patience has reached an end."
"Because of these continuing doubts, the lack of communication and the breakdown in trust, we have decided that we can no longer continue in government," he said.
Cowen, who plans to remain prime minister until the general election despite quitting as his party's leader, said the important thing was now to focus on "an orderly completion" of the finance bill.
Finance ministry officials were due to meet with opposition parties later Monday to try to agree on a timetable for passing the bill, which is crucial to securing loans worth 67 billion euros (90 billion dollars) from the EU and IMF.
The bill will bring into effect the government's harsh austerity budget, which includes a string of tax hikes and spending cuts aimed at saving 15 billion euros over four years in the heavily indebted country.
Ireland's bailout was the second for a eurozone country after Greece amid the single currency's debt crisis.
Despite now being in opposition, the Greens vowed to support the controversial bill in its passage through the Dail, or lower house of parliament.
Both Fine Gael and Labour are however threatening to table no confidence motions if their demands are not met.
They want the finance bill pushed through in a week to allow parliament to be dissolved Friday and new dates set for a general election.
Finance Minister Brian Lenihan said he hoped "a realistic schedule for the completion of the finance bill" could be agreed on, while Cowen stressed that it would not be possible to pass the legislation in a week.
Cowen had been under pressure for months over his handling of the crisis that crippled the Irish economy.
He survived a leadership challenge by then foreign minister Micheal Martin last week, but an attempt to use Martin's subsequent resignation and five other apparently coordinated cabinet resignations to force a reshuffle backfired.
The Green party vetoed any new reappointments and pressured Cowen into announcing the election date of March 11. Two days later he quit as leader of his party, which he has led since becoming premier in May 2008.
Martin is now the frontrunner to take over Fianna Fail, although he will be up against Lenihan, Defence Minister Eamon O Cuiv and Trade Minister Mary Hanafin.
Nominations close at 1:00 pm (1300 GMT) Monday, ahead of a vote planned for Wednesday at 2:00 pm (1400 GMT) in Dublin.
Fianna Fail's popularity has plummeted since Dublin agreed to the bailout and the party is expected to be punished by voters angry at the economic crisis and the austerity measures that followed.
Ireland's economy was so vibrant before the crisis that it was dubbed "The Celtic Tiger".
But a banking crisis and property market meltdown pushed the country into a deep recession and later forced its leaders to turn to the international community for financial support.