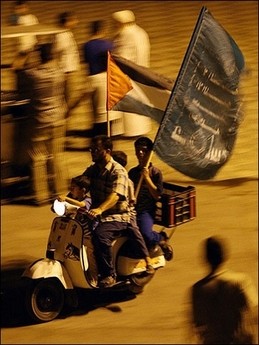 A Palestinian Hamas supporter rides a motorcycle in Gaza City to protest against the clashes in Al-Najah University in Nablus between supporters of Hamas and Fatah (AFP Photo)
Some 1,000 M-16 rifles have been transferred from Jordan to Palestinian security forces in the West Bank to avert a possible Hamas attack, the Haaretz daily said Thursday.
The Israeli paper said the authorized transfer was the largest in recent years, and is aimed at bolstering troops loyal to Palestinian President Mahmoud Abbas, preventing any possible attempt by Hamas of challenging Fatah rule on the West Bank.
The paper said the weapons were delivered three weeks ago after Israel approved the move, and the transfer was kept under wraps by both sides, to try and avert compromising Abbas' standing.
Although several thousand rifles were delivered to Fatah forces in the Gaza Strip and the West Bank earlier this year, most of them were seized by Hamas' following their takeover of the region.