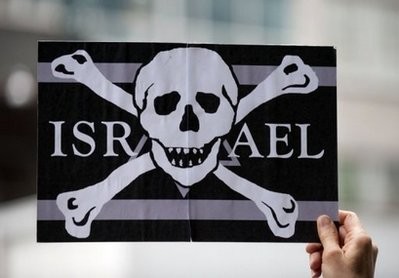 A man holds a sign during a rally in New York. AFP photo
JERUSALEM, June 2 (AFP) – Israel began deporting all foreign activists detained during a deadly raid on a Gaza-bound aid flotilla, as international pressure mounted and Turkey warned it risked losing its "sole friend" in the Middle East.
"Israel is faced with the danger of losing its sole friend in the region and the greatest contributor so far to regional peace," a statement Wednesday quoted Prime Minister Recep Tayyip Erdogan as telling US President Barack Obama in a one-hour telephone conversation.
"The steps that it (Israel) will undertake in the coming days will determine its position in the region," Erdogan said.
He told Obama Monday's operation on an international flotilla carrying supplies to the Gaza Strip, which resulted in nine deaths, was "unacceptable lawlessness," the statement said.
Erdogan stressed Israel's blockade of Gaza, in place since 2007, should be lifted and called on Israel to release the passengers and vessels of the seized flotilla.
Earlier a statement from the office of Israeli Prime Minister Benjamin Netanyahu said "all foreign nationals who were on board the fleet and were arrested will be deported from Tuesday night."
The operation was expected to be completed within 48 hours, it added.
About 120 people, mostly Algerians and Indonesians were about to cross the land border into Jordan, while 60 Turks were at Ben Gurion airport, near Tel Aviv, awaiting special flights home, Israeli army radio said Wednesday.
Another 70 Turkish citizens were on their way from prison to the airport, the radio said.
Of the 682 people from 42 countries aboard the six ships that were towed to an Israeli port after Monday's bloody raid, 45 were flown out Monday and Tuesday.
The decision to release the activists came after mounting international pressure to free the detainees.
The UN Security Council called for the ships and the civilians who had been on board to be released and to transport the aid to Gaza.
It also called for "a prompt, impartial, credible and transparent investigation conforming to international standards."
Israeli troops said they had killed nine of the activists during Monday's operation to capture the six-ship flotilla, which had 682 passengers from 42 countries.
Pierre Wettach, head of the International Committee of the Red Cross delegation, said his group was checking on the condition and whereabouts of those wounded and those detained by Israeli authorities.
Israel's decision to back down and release the detainees followed two days of stinging international criticism.
The White House declined to specifically condemn Israel, but US Secretary of State Hillary Clinton said the situation in Gaza was "unsustainable and unacceptable."
"Israel's legitimate security needs must be met just as the Palestinians' legitimate needs for sustained humanitarian assistance and regular access for reconstruction materials must also be ensured," she added.
Clinton backed an Israeli probe of the raid, while stressing that it had to be "prompt, impartial, credible and transparent."
Israel insists the boarding would have been peaceful if the commandos had not been attacked by dozens of club-wielding activists on the Turkish ferry Mavi Marmara, which carried most of the passengers.
Organisers of the aid convoy meanwhile insisted they would push ahead with a fresh bid to break the blockade.
"We knew what the risk would be and we will continue to run these flotillas," said Greta Berlin of the Free Gaza Movement.
"The Rachel Corrie will probably be there within the week."
The aid-laden cargo ship, currently off the east coast of Italy, is named after a US activist crushed to death in 2003 by an Israeli army bulldozer during a protest on the Gaza Strip.
Greta Berlin said organisers were also working on plans for a new flotilla that would leave for Gaza in July.
But Israel was adamant it would not let any ships through.
"We will not let any ships reach Gaza and supply what has become a terrorist base threatening the heart of Israel," deputy defence minister Matan Vilnai told public radio.
While Israel blamed the activists for the confrontation, passengers had an entirely different story.
"Personally, I saw two and a half wooden batons that were used... There was really nothing else. We never saw any knives," former MP Norman Paech, 72, said on his arrival back in Berlin.
"This was a clear act of piracy," said Paech, who was on the Mavi Marmara, where the worst of the violence took place.
Netanyahu, who consulted with his security cabinet after calling off White House talks with Obama, insisted the commandos had "defended themselves from a lynching."
But the Israeli press was scathing about the botched operation, criticising the failure of the political and military leadership to anticipate such a scenario.
Flotilla organisers said the ships carried some 10,000 tonnes of aid destined for Gaza, which has suffered a crippling blockade imposed by Israel in 2006 and largely backed by Egypt.
Israeli authorities said some of the fleet's supplies had been trucked to Gaza and more would follow.
The political fallout from the incident continued late Tuesday, as Nicaragua suspended diplomatic relations with Israel.