The Israeli air force carried out an air raid on the Gaza Strip overnight, in retaliation for a Palestinian rocket attack against southern Israel, a military spokesman said Tuesday.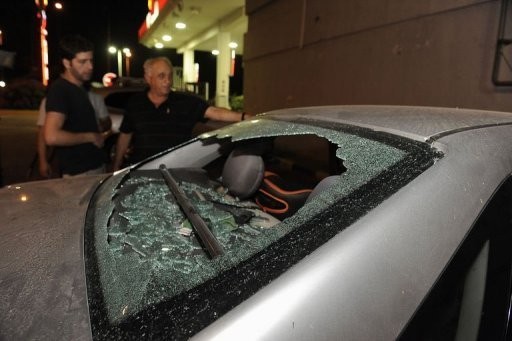 A man stands next to his car, damaged by bullets, allegedly shot from the Palestinian Gaza Strip towards Yad Mordechay in southern Israel.
"An air force plane attacked two bases of Hamas terrorist activity in the southern Gaza Strip," the Israeli armed forces said in a statement.
The Hamas Islamist movement controls the Palestinian territory.
Palestinian militants in Gaza on Monday fired a rocket which crashed into an uninhabited area of southern Israel without causing casualties or damage.
In the evening Gaza-based Palestinian gunmen opened fire with automatic rifles on cars in southern Israel without causing any injuries, police spokesman Micky Rosenfeld told AFP.
"The gunfire targeted cars in the Yad Mordechai kibbutz. There was material damage," he added.
An army spokesman confirmed the shooting and said a building was damaged.
Tensions regularly flare along the border between Israel and the Gaza Strip, with Palestinian militants firing rockets into the Jewish state and the Israeli military launching retaliatory air strikes on the Palestinian territory.
A flare-up in violence in June saw dozens of rockets fired into Israel and 15 Palestinians killed in air strikes, until a return to a tense truce.