Israeli Defence Minister Ehud Barak was expected to approve a series of sanctions against Gaza's civilian population on Thursday, including cutting off electricity in response to rocket attacks.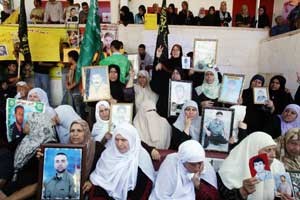 Palestinians hold photographs of jailed relatives during a protest against the riots that took place in an Israeli jail yesterday during a rally in Gaza City, Oct. 23, 2007. (AFP Photo)
The defence minister will hold a security assessment with the army's top brass and defence officials to weigh "a series of limitations on supplies and services to the Gaza Strip," a senior security official told AFP.
"The restrictions will include cutting fuel and electricity supplies to the Gaza Strip," he added.
The new measures are intended to increase pressure on Gaza's already impoverished population in order to force militants to stop rocket attacks against southern Israel, which the army has struggled to curb.
The power cuts will be temporary and measured in proportion to militant fire, which totalled more than 40 rockets over the past month, the army said.
"We are looking at a gradual disengagement from Gaza in terms of electricity supplies so they can supply electricity for themselves," he told army radio.
But the Palestinians and human rights organisations charge that any such move amounts to collective punishment of the civilian population, crammed into the narrow coastal enclave, in breach of international law.
The Carter Centre, the human rights group founded by former US president Jimmy Carter, urged Israel to maintain energy supplies to Gaza.
"The Carter Centre sees this proposal as the collective punishment of 1.4 million people for the actions of a few," it said in a statement.
Last month Israel declared Gaza a "hostile entity" after Islamist movement Hamas's bloody takeover of the territory in June, a move paving the way to shut down what Israel considers non-essential humanitarian supplies.
Already reeling from a Western freeze on direct aid after Hamas won elections in 2006, Gaza has been further isolated from the outside world since the takeover as Israel restricts all but vital humanitarian supplies.