Israel's new Foreign Minister Avigdor Lieberman ruled out in an interview published on Thursday any withdrawal by the Jewish state from the Golan Heights in exchange for peace with Syria.
"There is no cabinet resolution regarding negotiations with Syria, and we have already said that we will not agree to withdraw from the Golan Heights," Lieberman told the Haaretz daily.
"Peace will only be in exchange for peace," he said.
The interview came a day after firebrand Lieberman said the new government led by hawkish Prime Minister Benjamin Netanyahu was not bound by the US-backed agreement to relaunch peace talks with the Palestinians reached in 2007 at the Annapolis, Maryland conference.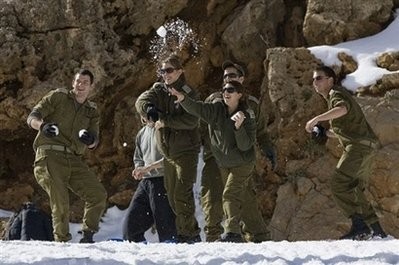 Israeli soldiers have a snowball fight in the northern Golan Heights
The Golan Heights is a strategic plateau that Israel captured from Syria in the 1967 Six Day War and annexed in 1981, a move not recognised by the international community.
Syria, which technically remains in a state of war with Israel, wants the territory back as part of any peace deal with the Jewish state.
Israel and Syria conducted indirect talks last year via Turkey, but these were stopped at the end of December when Israel launched a devastating war in the Hamas-run Gaza Strip.
Israel's former prime minister Ehud Olmert said recently that the two sides were on the brink of starting direct negotiations.
Syrian President Bashar al-Assad said on Monday that Arabs "do not have a real partner in the peace process" in the Netanyahu government.