A Lebanese-born prisoner freed after more than six years in jail in Israel on charges of spying for Shiite militant group Hezbollah arrived back in his native land on Sunday after being deported.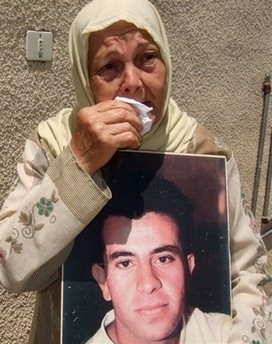 The mother of Nessim Nisr cries as she holds his picture at her home in the southern Lebanese village of Bazuriyeh, May 2008. Israel freed a Lebanese-born man who had been jailed for more than six years on charges of spying for Shiite militant group Hezbollah and were to deport him.(AFP/File/Jihad Siqlawi)
Nisr was handed over to the the International Committee of the Red Cross (ICRC) at Israel's Rosh Hanikra border post and transferred to the Lebanese side at midday (0900 GMT).
Nisr arrived at the crossing in a white, unmarked jeep and was escorted by police to the crossing point before being driven over the border into the no man's land between the two countries.
Lebanese troops had fanned out across the border town of Naqura, setting up a checkpoint near the main square and inspecting the identity cards of the hundreds of people who had gathered there.
Hezbollah fighters were also out in force across the town, wearing black clothes and yellow hats with the phrase "a victory from God" and blocking the main entrance to the town.
"We hope he will arrive safe and sound," Nisr's brother Omran told AFP.
The head of military intelligence for southern Lebanon Ali Ibrahim headed to the border in a convoy, as did the UN peacekeeping force's political advisor Milos Strugar, who travelled with the ICRC delegation.
Nisr, born in 1968 to an Israeli Jewish mother who converted to Islam and a Lebanese Muslim father, held Israeli citizenship at the time of his arrest in 2002. He was sentenced to six years in prison for collaborating with Hezbollah.
His release is being seen as part of a broader prisoner exchange deal between the Jewish state and Hezbollah, which captured two Israeli soldiers in a deadly cross-border raid on July 12, 2006.
Israeli army radio reported last week that Israel was prepared to release five Lebanese prisoners and return the bodies of 10 Hezbollah fighters in exchange for the two servicemen.
Nisr left Lebanon during the Israeli invasion of 1982 and joined his mother's family in Israel, where he settled near Tel Aviv.
Nisr's brother Mohammed said Nessim had told him in a phone call a month ago that "his jailers had placed him in solitary confinement in a bid to persuade him to abandon his plans to return to Lebanon with his two daughters, who are Israeli citizens."
Israel and Hezbollah fought a devastating 34-day war in 2006 during which Israeli troops invaded Lebanon in an unsuccessful attempt to rescue the soldiers.