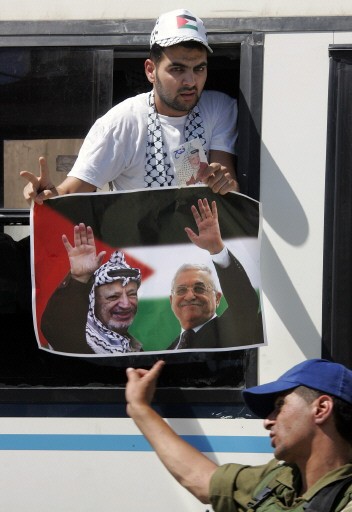 A freed Palestinian prisoner flashes the V for 'victory' sign after being formally handed over to the Palestinian authorities on July 20, 2007.
Israel freed more than 250 Palestinian prisoners met by joyful relatives on Friday, in the biggest such release in two years intended to bolster president Mahmud Abbas against Hamas.
Palestinian president Mahmud Abbas welcomed the release of more than 250 Palestinian prisoners as "heroes of freedom" after they were bused to the occupied West Bank by Israel.
"I thank God that we are honoured by the return of heroes of freedom to their home and the bosom of their homeland," Abbas said in an address to hundreds of people celebrating the prisoner release at his leadership compound in Ramallah.
"We must continue to work for the return of all Palestinian prisoners," he added at the start of a formal ceremony to welcome back the 256 Palestinians who were released by Israel on Friday in a move to bolster Abbas.
Seven buses carrying handcuffed men from Israel's Ketziot prison and an eighth carrying seven women drove slowly through the Beitunya checkpoint at the entrance to the West Bank political capital of Ramallah after 0800 GMT.
"I only have three words to say: freedom, freedom, freedom. There is nothing more beautiful than freedom," said Abdelrahim Malluh, deputy leader of the Popular Front for the Liberation of Palestine, and the highest profile prisoner to be freed.
Others among the 256 prisoners, sporting fresh haircuts and grinning from ear to ear, crained their necks to lean out of the bus windows waving flags and keffiyehs, flashing victory signs to waiting journalists and loved ones.
At Beitunya they were formally handed over to the Palestinian authorities and were being driven to the Muqataa, the Palestinian Authority leadership compound in Ramallah, where Abbas was waiting to give them a heroes' welcome.
Women shrieked in joy, while hundreds of well-wishers and relatives flew the Palestinian flag, banners of Abbas's Fatah party and its armed offshoot, the Al-Aqsa Martyrs Brigades, and pictures of Abbas.
Pictures of Abbas's late predecessor, historic Palestinian leader Yasser Arafat, with the black, white, green and red colours of the national standard were adorned on the buses waiting to take the released prisoners downtown.
Friday's release of 256 prisoners, including six women and 11 minors, is the biggest by Israel since 2005, when 500 Palestinians were freed in February and another 400 in June.
Israel agreed to the releases as part of a series of goodwill gestures designed to bolster Abbas in his struggle for power with the Islamist Hamas, following the group's bloody takeover of the Gaza Strip last month.
The prisoners largely belong to Abbas's pragmatic Fatah party that has been locked in a power struggle, and at times deadly combat, with Hamas since losing a general election to the Islamist movement in 2006.
Other recent Israeli gestures to Abbas have included a pledge to remove from wanted lists nearly 190 militants who had promised not to carry out attacks against Israel, and releasing a part of Palestinian customs duties it has withheld for more than a year after Hamas came to power.
Since Hamas routed forces loyal to Abbas in Gaza on June 15 in ferocious street battles, the Palestinians have been split into two entities, with the moderate president controlling the West Bank and Hamas ruling over Gaza.