Israel's Prime Minister Benjamin Netanyahu met French President Nicolas Sarkozy for talks on the crisis in the Middle East peace process and appeared to open the door to talks with Syria.
Neither leader spoke to reporters after their two-hour meeting in the Elysee Palace, and Netanyahu set off for the airport immediately afterwards. The pair had addressed the media after both their previous Paris meetings.
A short statement from Sarkozy's office said that the talks had included only the leaders and one senior advisor each. They discussed "international issues and notably ways to restart the Middle East peace process."
But, while the mood surrounding the meeting was downbeat, afterwards an Israeli official did hold open the chance of progress in one of the overlapping negotiating tracks that make up the stalled regional peace plan.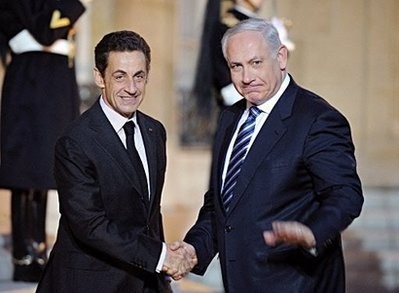 French President Nicolas Sarkozy (L) shakes hands with Israel's Prime Minister Benjamin Netanyahu at the Elysee Palace in Paris
"Mr Sarkozy raised the issue of the Syrian track," the senior aide said.
"The prime minister said he is willing to meet with the Syrian president at any time and anywhere to move on the peace negotiations on the basis of no pre-conditions," he added.
Earlier, in Damascus, Syrian President Bashar al-Assad told a meeting of Arab politicians that Syria would not "put forward conditions on making peace" but warned it had "rights that we will not renounce," according to the SANA news agency.
Assad is due in Paris on Friday for talks with Sarkozy.
Israel captured the Golan Heights from Syria in the 1967 Middle East war and unilaterally annexed it in 1981. Damascus has repeatedly demanded the strategic plateau's return as a non-negotiable condition for peace.
Telephone talks arranged by Turkish mediators between the arch foes were broken off last year during Israel's offensive in Gaza, closing a promising diplomatic channel towards a broader Middle East settlement.
Last week, Turkish Foreign Minister Ahmet Davutoglu said in Paris that he was ready to resume his role as mediator of three-way telephone conversations between Israeli and Syrian leaders at any time.
There was no sign, however, that the Paris meeting had made much progress on the issue of peace between Israel and the Palestinians.
On the eve of the visit, French Foreign Minister Bernard Kouchner said a "real political difference" separates Sarkozy and Netanyahu on the issue of Israel's continued building of settlements on Palestinian land.
"We think that a freeze on settlements, that's to say no more colonisation while talks are ongoing, would be absolutely indispensable," Kouchner told France Inter radio. "We need talks and the peace process to restart."
French fears for the peace process have been exacerbated by Palestinian president Mahmud Abbas' threat to resign in protest at Israel's refusal to stop building on Palestinian land in Jerusalem and the West Bank.
"The return to negotiations depends on Israel adhering to the terms of reference of peace and that means halting all settlements," Abbas told Palestinian supporters on Wednesday in Ramallah.
Abbas is seen by many as the only Palestinian leader with the power and credibility to lead meaningful negotiations, and his departure could even trigger the collapse of the Palestinian Authority.
Sarkozy called Abbas on Tuesday to urge him to reconsider a decision not to seek re-election next year, and was expected to pressure Netanyahu during his meeting Wednesday to halt settlement building.
The Israeli leader arrived in Paris late Tuesday after flying in from Washington, where he had held similarly tense discussions with US President Barack Obama, who has also called for a construction freeze.
Netanyahu insists he has limited settlement activity and has called for immediate peace talks with the Palestinians, but his Washington trip ended without the usual friendly joint appearance with the US leader.
The lack of a press conference was widely interpreted as a snub by Obama.
Speaking in Jerusalem, Israeli Defence Minister Ehud Barak on Wednesday said the meeting had helped pave the way for the possible restarting of Israeli-Palestinian talks.
"This meeting was good, important and constructive. It lifted a number of obstacles and created a decisive base for the resumption of negotiations that will allow us to reach an agreement with our neighbours, the Palestinians," he said.