The Gaza Strip was sealed off Friday on the orders of Israeli Defence Minister Ehud Barak, after Israeli air strikes killed seven Palestinians there in a bid to halt near daily rocket fire.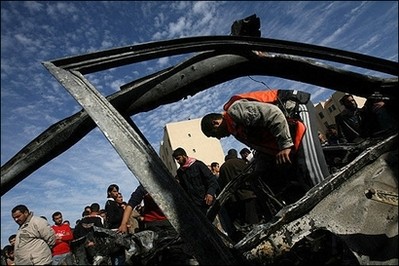 Palestinians inpect the destroyed car of Raad Abu Foull, 43, a commander in the Popular Resistance Committees militant group, who was killed with his wife during an Israeli army air strike as they drove in the northern Gaza Strip town of Beit Lahiya
The move came as Prime Minister Ehud Olmert vowed to keep up raids on gunmen in the impoverished Hamas-run territory.

In announcing the closure of all border crossings between Israel and Gaza, a defense ministry official said it would remain in effect for several days and would affect both commercial traffic and individual travelers.

He added that, in the meanwhile, crossings would be authorized to respond to "exceptional humanitarian needs."

The UN agency for Palestinian refugees on Friday appealed to Israel to lift its lockdown.

"It is imperative that these crossings are opened so that the dire situation in Gaza does not deteriorate further, inflicting further misery on one and half million people" who live there, Christopher Gunness, the spokesman for the United Nations Relief and Works Agency (UNRWA), told AFP.

Israel imposed heavy restrictions on movement in and out of Gaza in the autumn after declaring Gaza, seized in June by the Islamist movement Hamas, a "hostile entity."

Raad Abu Foull, 43, a commander in the Popular Resistance Committees militant group, was killed with his wife in their car in the northern town of Beit Lahiya, medics said. The military confirmed hitting a car transporting a "rocket-manufacturing cell".

A strike on Thursday night targeted a car in the northern Gaza Strip that was carrying members of the radical Islamic Jihad movement, killing two of them, medical sources said.

However, the blast also hit a donkey cart traveling behind the car, killing the woman who was driving it and seriously wounding her passenger, a child. Two pedestrians were also hurt.

In another night-time hit, two Hamas militants were killed when a missile struck a car in the southern Gaza Strip, medical sources said.

The Palestinians slammed the raids on Gaza -- which have killed 30 people in three days -- and appealed to Israel's main ally the United States to intervene to preserve renewed peace efforts.

"The Israeli raids and military escalations aim to deliver a blow to the Palestinian-Israeli negotiations," Nabil Abu Rudeina, spokesman for president Mahmud Abbas, told AFP.

A day after US President George W. Bush ended a visit to the region during which he predicted the two sides would sign a peace treaty within a year, Abu Rudeina called on Washington to "intervene rapidly to prevent a further deterioration that may spin out of control, and to preserve the historical chance for peace."

The United States urged Israel to avoid the loss of innocent life in the Gaza Strip, but defended the Jewish state's right to strike against rocket and mortar attacks from Islamic militants.

For his part, UN chief Ban Ki-moon expressed alarm over the mounting violence and urged "maximum restraint" by Israeli forces as well as an end to sniper and rocket fire into the Jewish state.

The strikes came as Olmert said Israel would keep attacking gunmen in Gaza.

"We cannot accept the continuation of fire against our citizens and we will continue to react with intelligence and with the most precision possible to put an end to the terrorist fire, all the while trying to avoid civilian victims," Olmert said in Tel Aviv.

The upsurge in violence comes despite renewed peace talks between Israel and the Palestinians, with the two sides on Monday starting discussions on the most intractable issues of their decades-long conflict.

Earlier Deputy Prime Minister Haim Ramon, a close Olmert ally, told army radio "the military and economic pressure as well as the international isolation of the Gaza Strip will end up producing results."

But he ruled out talks with Hamas, which refuses to recognise Israel, and said the Gaza operations would halt if militants stopped firing rockets and mortars.

"There is no need to negotiate with Hamas. If the rocket firings stop, we will cease operating in the Gaza Strip," Ramon said.

Israel has conducted regular operations against militants in Gaza aiming to stop rocket and mortar fire from the territory.

Some 130 people, mostly militants, have died in Gaza in the strikes since Israelis and Palestinians formally relaunched the Middle East peace process in late November.

Hamas supremo Khaled Meshaal told reporters at his base in Damascus that Bush's eight-day Middle East tour "gave cover to this massacre," and he called on the Palestinian president to halt the "absurd" peace talks with Israel.

Hamas responded to Tuesday's deaths by firing, for the first time in months, a volley of several dozen rockets into Israel, lightly wounding 10 people.

More than 30 rockets slammed into southern Israel on Thursday, causing some damage but no casualties, the army said. Hamas claimed responsibility for firing a barrage against the hard-hit town of Sderot.

The home-made projectiles are notoriously inaccurate and rarely cause casualties, but leave Israelis living near the Gaza border in a permanent state of fear.