TEHRAN, June 1, 2010 (AFP) - President Mahmoud Ahmadinejad said on Tuesday that Iran has precise information that Israel plans to launch a "massive attack" on Gaza in the wake of its deadly raid on an aid flotilla.
"We have precise information it has planned a massive attack against Gaza to make up for its past defeats," Ahmadinejad said in a public speech in the western Iranian city of Ilam that was broadcast live on state television.
"I warn you that if this time you commit a crime against any place, against Gaza, the storm of regional nations' fury will uproot you," he said.
The hardliner, who has repeatedly infuriated the world by his anti-Israeli tirades, also lashed out at countries which he said "backed the Zionist regime."
"This time if you back the crimes of the Zionist regime, the anger of regional nations ... will not just be limited to the borders of Palestine, but will also put on trial you and those who are accomplices in the crime," he said to cheering crowds.
Ahmadinejad criticised Washington for adopting a "weak stance" against Israel for its deadly raid on the Gaza aid flotilla.
"The US government has adopted a very weak and biased position. Instead of condemning, it has spoken vaguely and sought to evade taking a stance," he said, while some European countries had adopted a "good" stand.
On Monday, Israeli commandos raided an aid flotilla in international waters of the Mediterranean headed to Gaza that left at least nine pro-Palestinian activists dead, according to the Israeli army.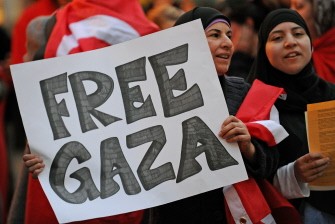 Demonstators join an anti-Israel protest in Sydney on June 1, 2010. Australia on June 1 strongly condemned a deadly raid by Israeli commandos on a Gaza-bound aid ship. AFP PHOTO
The attack on the flotilla has triggered a fresh wave of tirades from Ahmadinejad against Israel.

The animosity between the Islamic republic and the Jewish state has worsened under Ahmadinejad, who has repeatedly said Tehran's arch-foe is "doomed to be wiped off the map."
Israel, for its part, has consistently demanded strong action against Iran for pursuing its controversial nuclear programme and has not ruled out a military strike.