Israeli Prime Minister Benjamin Netanyahu will soon authorise hundreds of new homes to be built in the occupied West Bank despite US calls for a settlement freeze, a senior minister said on Sunday.
"The prime minister will announce in the coming days the construction of several hundred additional homes and public buildings," Transport Minister Yisrael Katz, a close ally of the hawkish premier, told public radio.
Netanyahu plans to authorise between 400 and 600 housing units, according to Israeli media.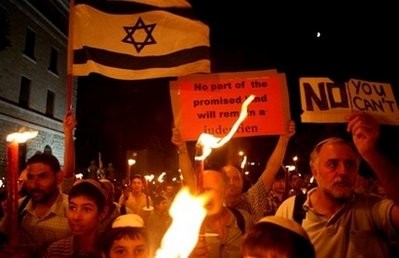 Ultra-nationalist Israelis demonstrate in July in Jerusalem to protest US pressure to freeze construction of settlements in the West Bank
On Friday, a senior official said Netanyahu would approve a burst of settlement building in the occupied Palestinian territory before considering a moratorium sought by the United States.
The announcement sparked widespread criticism from the international community and outrage from the Palestinians, who called it "unacceptable."
Israel's main ally Washington, which has for months been demanding that the Jewish state freeze all settlement activity in order to kick-start the stalled Middle East peace process, said it regretted the plans.
Jewish settlements in the West Bank and annexed east Jerusalem, home to some half a million Israelis, are among the thorniest issues of the decades-old Middle East conflict and one of the main obstacles to reaching a peace deal.