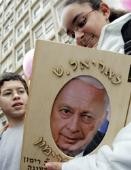 Israeli shcoolchildren show an Ariel Sharon photo album that they would like to present to Israel's ill prime minister, at the Hadassah Ein Kerem hospital in Jerusalem, 11 January 2006.

The 77-year-old prime minister, whose fate is crucial to Israel and the wider Middle East, remained in intensive care but surgeons pronounced him out of immediate danger
.
While Sharon was still fighting for life, party leaders had called an uneasy truce out of respect for a leader whom many Israelis regard as a war hero.
But a series of increasingly upbeat medical updates Wednesday prompted the premier's own supporters to suggest he might yet lead them into March elections and his opponents to take off the gloves.
The right-wing Likud -- the movement Sharon broke with late last year to found his own new party -- launched a vitrolic attack on the caretaker government of Acting Prime Minister Ehud Olmert and announced it was pulling out its four remaining ministers so it did not have to implement its policies.
The announcement came ahead of internal elections later Thursday that are expected to see hardliners seal their grip on the Likud's slate.
The centre-left Labour party meanwhile launched its campaign for the March 28 elections with an attack on both its rivals, saying that they were two sides of the same anti-peace, anti-poor coin.
The return to business as usual in Israel's deeply polarised politics came after officials of Sharon's new Kadima party seized on a series of hopeful comments from doctors to suggest the premier might yet be able to head their candidate list.
The prime minister's chief neurosurgeon Felix Umansky told AFP that his progress so far had defied all expectations.
"He is a very strong person. If someone had told me this was going to happen a week ago, I wouldn't have believed it," he told AFP.
Umansky said Sharon was already moving "his four limbs" and showing stronger responses to stimulation.
Later in the day he said the prime minister had even appeared to respond to words of encouragement from his younger son Gilad.
Umansky stressed that the surgical team could not be too hasty in fully ending the prime minister's sedation, and only when that had been done could they begin to gauge whether he would fully recover his faculties.
"The process is very slow and must be very well controlled. Nobody who is close to regaining consciousness likes feeling that he has a tube next to his windpipe or that he is immobilised," he told AFP.
But his comments and similar assessments from other members of the surgical team prompted Kadima's campaign manager Tzahi Hanegbi to suggest Sharon rather than his stand-in Olmert might head the party's slate.
"It will be wonderful if we really reach a situation in which he can function, communicate and be involved, and of course the minimum that we will want to do is to put him in his natural place," Hanegbi said.
Politicians from both Likud and Labour accused Kadima of abusing the prime minister's name, acutely sensitive that Sharon's plight has maximised public support for his fledgling centrist movement.
"As someone who knows and values Sharon, it pains me that there are various elements around him who are trying to make a political fortune on the back of his illness," said Likud MP Moshe Kahlon.
Labour secretary general Eitan Cabel said it was "cynical" to put Sharon in the number one spot on Kadima. "If they don't have Sharon, they don't have anything," he said, echoing the Labour line that Kadima is a one-man show.
The Likud's hawkish new leader, Benjamin Netanyahu -- himself a former premier -- also launched a vitriolic attack on the interim government's policies, accusing it of making concessions that undermined Israel's longstanding policy of retaining all of Jerusalem as its undivided capital.
"Kadima is taking measures that mean that Jerusalem is going to be divided," he said in reference to the government's plans to allow residents of annexed Arab east Jerusalem to vote in Palestinian elections on January 25.
The decision, which had already been announced in principle by Defence Minister Shaul Mofaz earlier this week, had been due to be sealed at a cabinet meeting Sunday in which the four Likud ministers will now not take part.
Source: AFP