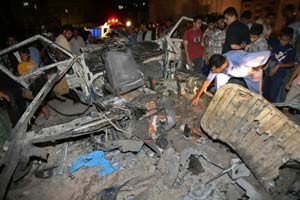 Palestinians inspect the remains of a car after it was hit in an Israeli missile strike in Gaza City (AFP Photo)
Israel pounded the Gaza Strip with fresh air strikes on Monday as Prime Minister Ehud Olmert defended the deadly military offensive in the face of international criticism.
One Palestinian militant was killed and seven other people wounded in Israeli air raids over Gaza City early Monday, medical and security sources said. An Israeli assault helicopter also bombed a metal workshop in the city.
An Israeli military spokeswoman said aircraft carried out strikes against a weapons factory operated by the radical Islamic Jihad movement, a "cell identified trying to launch rockets at Israel" and a gunman.
Forty-two Palestinians and an Israeli soldier have been killed since Israel poured tanks and troops into the Gaza Strip last Wednesday in a bid to stop Palestinian rocket attacks and to win the release of a captive soldier.
Despite the mounting death toll, Israel has warned troops could be in for the long-haul, rejecting a call by Palestinian prime minister Ismail Haniya of Hamas for a mutual ceasefire.
"We haven't set a particular timetable for this operation. It will continue in places, in times, in different measures," Olmert told a news conference.
"I think that once the Qassam shooting will be stopped and the terrorist actions against innocent civilians will be halted altogether, there will be no need for any Israeli action in Gaza."
Moving into land evacuated in September after a 38-year occupation, ground forces have been backed up by helicopter gunships and drones conducting wave after wave of air strikes for two straight weeks of overnight bombardment.
Olmert flatly rejected international criticism of the scale of the Israeli onslaught following the capture of the soldier on June 25, claiming there had been no response to Israel's pullout from Gaza in September other than continued violence.
"Can one measure the anxiety, the fear, the shocks, the lack of security of tens of thousands of people living day in and day out for almost a year under the constant threat of missiles shot at them?" he asked.
"When was the last time that the European Union condemned this shooting and suggested effective measures to stop it? We were waiting and waiting and waiting," he told the news conference.
Aid groups have expressed concern about the difficulties of providing assistance to 1.4 million people living in Gaza following months of financial crisis and the suspension of direct Western aid to the Hamas-led government.
UN Secretary General Kofi Annan has also called for an immediate halt to Israel's "disproportionate use of force" and for militants to release 19-year-old corporal Gilad Shalit, while the United States and European Union have also urged restraint.
The UN Relief and Works Agency said Gaza was "on the brink of a public health disaster" while the International Federation of Human Rights Leagues urged the Security Council called for an international force to be sent there.
The return of Israeli troops to Gaza has evoked memories of the army's disastrous 1982 invasion of Lebanon where soldiers became bogged down in a deadly quagmire before finally pulling out in 2000.
Defence Minister Amir Peretz conceded on Sunday that "so far there has been no success, but we require patience and restraint".
Israel has refused any negotiations with Hamas -- whose armed wing was one of three groups that claimed the June 25 attack in which Shalit was captured -- on a Palestinian prisoner swap in exchange for the soldier.
Palestinian president Mahmud Abbas nevertheless ordered two envoys to visit Hamas's exiled political supremo Khaled Meshaal in Damascus and Syrian leaders to discuss the soldier's abduction and the crisis in Gaza.
Palestine Liberation Organisation executive committee members Taysir Khalid and Abdullah Horani were due to leave on their mission Monday.
Hamas, which has seen its government offices bombed in Israeli air strikes since Shalit was captured, has warned that the military assault was complicating the fate of the corporal, who it said was being well looked-after.
The beleaguered Haniya on Saturday stressed that his government was determined to solve the problem through diplomatic channels in a "peaceful" manner, calling on Israel to halt its military operation.
Source: AFP