Helicopters, plus ferries and other passenger ships were being commandeered to pick up foreign nationals trapped in the fighting between Israel and Lebanese militants, in one of the biggest evacuations since World War II.
A French citizen waiting to evacuate her family as Israel bombs hit near Beirut on Monday (AP Photo)
More than 200 people have been killed since Israel launched its air, ground and sea assault against Lebanon following the capture of two soldiers by militants from the Shiite movement Hezbollah in a deadly attack last Wednesday.
In a tit-for-tat cycle of violence, Hezbollah has kept up a relentless barrage of rocket fire on northern Israel that has killed 12 civilians and wounded dozens more.
But despite tentative efforts to try to bring about a halt to the deadliest cross-border violence in decades, the United Nations has so far failed to agree on a call for a ceasefire, underscoring rifts among world powers.
Israel, which has sent ground troops back into Lebanon for the first time since it ended its bloody occupation in May 2000, warned that its offensive could last at least another week.
In a combative and emotional address to parliament, Israeli Prime Minister Ehud Olmert declared the Jewish state was facing a "moment of truth," vowing to crush Islamic militants in both Lebanon and the Gaza Strip.
"We will fight with all the strength we are capable of. We will strike anyone who would strike at us and any terrorist infrastructure, until Hezbollah and (Palestinian militant group) Hamas cease attacking us," he said.
Tens of thousands of terrified foreigners and Lebanese are trying to flee the fighting, which has left a trail of devastation across many parts of Lebanon, particularly the south of the country and the southern suburbs of Beirut, the Hezbollah power base.
With Beirut's international airport out of action since Thursday because of repeated Israeli air strikes many foreigners were taking the land route to Syria while others are waiting to be brought out by ship or helicopter.
Israel has slapped an air and sea blockade around Lebanon but has said it will coordinate to allow foreign nationals to leave. However, it has rejected an Australian appeal for a short ceasefire in Lebanon to allow a safe evacuation of its nationals, Foreign Minister Alexander Downer said Tuesday.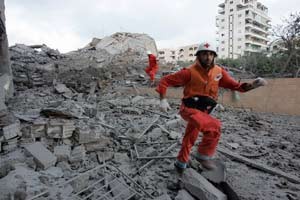 Lebanese Red Cross members run for cover amidst rubble of a residential building following Israeli air strikes in the southern city of Tyre, July 17, 2006 (AFP Photo)
Mr. Downer said Israel had also refused to guarantee safe passage for foreign nationals trying to escape southern Lebanon, which has been pounded by Israeli bombing raids for days.
Canberra has said there are about 25,000 Australian citizens living in Lebanon, although the vast majority had dual nationality and did not plan to leave. Some 4,500 Australians were registered with the embassy in Beirut.
In the first mass evacuations by sea, an Italian vessel and a French-chartered ferry arrived in Cyprus, which lies just 100 miles (160 kilometres) across the Mediteranean sea from Lebanon.

British Foreign Office minister Kim Howells said the Royal Navy could be faced with "the biggest evacuation since Dunkirk" -- when some 330,000 soldiers were evacuated by sea from France in 1940 -- while the United States was preparing to help potentially thousands of nationals flee.
Lebanon's grim body count continued to mount on Tuesday, with four civilians -- a woman, her two daughters and Sri Lankan maid -- killed in an air strike on their villa in the coastal city of Tyre.
The United States has maintained Israel has every right to defend itself and also urged restraint over the offensive, which has split the international community and raised fears of dragging Syria and Iran into the conflict.
The Security Council stalled on calling for a halt to Israel's deadly strikes, as it mulled a lasting solution centred on the disarming of Hezbollah, considered a terrorist group by Washington.
The 15-member council wrapped up two hours of closed-door consultations on Monday and decided to await the return of a UN mediation team from the Middle East before making any move.
The UN special envoy leading the team told reporters after talks in Beirut that there had been "some promising first efforts on the way forward."

But both Israel and Hezbollah said they are unwilling to accept an unconditional ceasefire.

Source: AFP