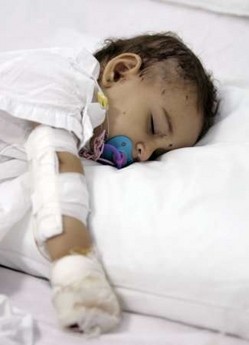 Two-year-old Ola Ali from Blida, south Lebanon, who was injured in Thursday's Israeli attacks on Marjeyoun (Reuters Photo)
In preparation for a more powerful punch deeper into Lebanon, an Israeli military radio station that broadcasts into the south issued what it called "a strict warning" that Israeli forces would "act immediately" to halt Hezbollah rocket fire. It warned hundreds of thousands of people to flee southern Lebanon "immediately.
Meanwhile, U.N. chief Kofi Annan warned of a humanitarian crisis in Lebanon and called for an immediate cease-fire, even as he admitted "serious obstacles" stand in the way of even easing the violence. Annan denounced Israel for "excessive use of force" and Hezbollah for holding "an entire nation hostage" with its rocket attacks and snatching of two Israeli soldiers last week.
As the death toll rose to 330 in Lebanon, as well as at least 32 Israelis, Lebanese streamed north into the capital and other regions, crowding into schools, relatives' homes or hotels. Taxi drivers in the south were charging up to $400 per person for rides to Beirut — more than 40 times the usual price. In remote villages of the south, cut off by strikes, residents made their way out over the mountains by foot.
The price of food, medical supplies and gasoline rose by as much as 500 percent in parts of Lebanon on Thursday as Israel's relentless bombardment destroyed roads, bridges and other supply routes. The World Food Program said estimates of basic food supplies ranged from one to three months.
On a day that saw U.S. Marines return to Lebanon for the first time in 22 years, the war looked ready to expand dramatically. Neither side showed any sign of backing down. Hezbollah refused to release its two Israeli soldiers without a prisoner exchange, Israel was aiming to create a new buffer zone in a region that saw 18 years of Israeli presence ending in 2000.
Hezbollah leader Sheik Hassan Nasrallah shrugged off concerns of a stepped-up Israeli onslaught, vowing never to release two Israeli soldiers captured by his guerrillas even "if the whole universe comes (against us)." He said they would be freed only as part of a prisoner exchange brokered through indirect negotiations.
Israel has decided air power alone will not be enough to drive Hezbollah back from the Israeli-Lebanon border and that a ground force will be needed to establish a zone that is at least 20 miles deep, senior military officials said Thursday. That would force Hezbollah behind the Litani River.
Israel wants to send a strong message to all its enemies, especially Iran, that the consequences of attacking the Jewish state will be unbearable.
But mounting civilian casualties and the displacement of hundreds of thousands of Lebanese could limit the amount of time Israel has to achieve its goals, as international tolerance for the bloodshed and destruction runs out.
Lebanese Prime Minister Fuad Saniora put the death toll at more than 330 — at least 11 of them killed Thursday — with 1,100 wounded. At least 32 Israelis have been killed, including 17 service members — three of them killed in military operations Thursday and early Friday.
Saniora said more than 55 bridges across the country had been destroyed, and that Israeli forces had targeted ambulances and medical convoys.
"This attack is no longer against Hezbollah, it is an attack against the Lebanese and Lebanon," Saniora told CNN.
In preparation for a more powerful punch deeper into Lebanon, an Israeli military radio station that broadcasts into the south issued what it called "a strict warning" that Israeli forces would "act immediately" to halt Hezbollah rocket fire.
More than 300,000 people are believed to live south of the Litani — which twice has been the border line for Israeli buffer zones. In 1978, Israel invaded up to the Litani to drive back Palestinian guerrillas, withdrawing from most of the south months later.
Israel invaded Lebanon again in a much bigger operation in June 1982 when its forces seized parts of Beirut. It eventually carved out a buffer zone that stopped at the Litani. That zone was reduced gradually but the Israeli presence lasted for 18 years until 2000, when it withdrew its troops completely from the country.
Demonstrators burn an Israeli flag in front of the US embassy in downtown Kuala Lumpur, July 21, 2006 (AFP Photo)
Thousands of people in many countries demonstrate on streets to protest Israel's aggression.
Thousands of Indonesian Muslim students march during a rally against the Israeli attacks on Lebanon and Palestine, in Jakarta 21 July 2006. Indonesia's president has written to the UN chief to express concern about the escalating conflict in the Middle East and express Jakarta's readiness to contribute to a UN force there, an official said.
In Kuala Lumpur, some 1500 Malays demonstrators protested outside mosques and embassies of the US, Britain, and France, in protest of Israeli aggression in Lebanon and Gaza.
South Korea protesters shout slogans as they display placards during a demonstration in front of Israel's embassy in Seoul on July 21, 2006, demanding Israel to stop its military action in Lebanon. UN Secretary General Kofi Annan demanded an immediate ceasefire between Israel and Hezbollah and proposed a blueprint to end the deadly fighting in Lebanon.
Hundreds of members of picketer groups protest against Israel' s attacks to Lebanon during People's Summit's march in Cordoba, Argentina, 20 July 2006, prior to the XXX Mercosur's Summit which is to be held these 20 and 21 July.

Source: AFP, AP
Related Articles:

Anglican Leader Urges Britain, US to Back Ceasefire in Lebanon
Israel Pounds Lebanon as Foreigners Flee