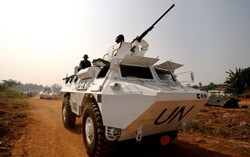 Indonesian soldiers, who are to join UN forces in Lebanon, patrol with in their armoured vehicles during drill in Bogor, September 8, 2006
Israel said Friday it is prepared to lift its naval blockade on Lebanon within 48 hours after being informed by the United Nations that international forces will be in place by then.
"We have been assured by the UN that in the next 48 hours it will deploy a naval force responsible for enforcing the arms embargo (on Hezbollah)" Miri Eisen, a spokeswoman for Prime Minister Ehud Olmert's office told AFP.
"As soon as that is done, which could be immediately, Israel will hand over this task to the UN," she said.
Israel lifted an air embargo of Lebanon on Thursday and said its naval blockade -- in place to prevent arms smuggling to Hezbollah -- would end as soon as a multinational naval force was in place to take over.
Source: AFP