Palestinian president Mahmud Abbas on Monday urged Israel to recognise a Palestinian state and not "lose an opportunity for peace," ahead of a formal request for Palestinian UN membership this week.
Abbas called "on the Israeli people to recognise the state of Palestine, proving that there can be a two-state solution, and not lose an opportunity for peace."
The Palestinian leader made the comments to reporters as he arrived in New York, where he is set to submit later this week a formal request that the United Nations admit a Palestinian state as a full member of the international organisation.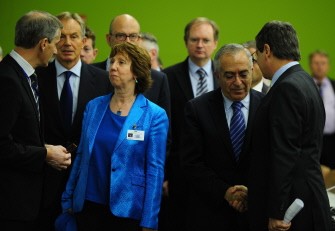 Palestinian prime minister Salam Fayyad (2nd R) meets with Israel's Deputy Foreign Minister Daniel Ayalon (R) as EU foreign policy chief Catherine Ashton (3rd L) and Quartet representative Tony Blair (2nd L) arrive for a meeting of the Ad Hoc Liaison Committee (AHLC), the donor support group for the Palestinians, at the United Nations headquarters in New York September 18, 2011
The bid is fiercely opposed by Israel, which accuses the Palestinians of trying to circumvent negotiations, and also by Washington, which has threatened to veto the move at the Security Council.
The Palestinians say that with negotiations on hold in a dispute over Israeli settlement construction, the UN bid represents their best chance to keep their dream of statehood alive.
Abbas has said the UN membership bid does not exclude the possibility of new negotiations, but that the Palestinians will not resume talks without a freeze on settlement activity and unless a clear framework for discussions is determined beforehand.
US President Barak Obama relaunched direct peace talks between Israel and the Palestinians in Washington in early September 2010, the first such talks for nearly two years.
But the talks ground to a halt shortly after they began when an Israeli partial freeze on settlement construction expired and Israeli Prime Minister Benjamin Netanyahu declined to renew it.
The Palestinians say they will not negotiate while Israel builds on land they want for their future state, and argue the bid for UN membership will allow them a more equal footing with Israel in any future talks.
The Palestinian membership request will ask the UN to admit their state on the lines that existed before the 1967 Six Day War, encompassing Gaza and the West Bank, including annexed Arab east Jerusalem.