Israel announced it will allow all strictly "civilian" goods into Gaza while preventing certain weapons and dual-use items from entering the Hamas-run Palestinian enclave.
The new policy is a response to mounting calls to ease Israel's four-year siege on the coastal enclave after Israeli forces killed nine activists during a May 31 raid on a flotilla of aid ships attempting to run the blockade.
"The Israeli government has today taken additional steps to further enable the flow of civilian goods to the civilian population of the Gaza Strip," said government spokesman Mark Regev.
"From now on, there is a green light approval for all goods to enter Gaza except for military items and materials that can strengthen Hamas's military machine," he said.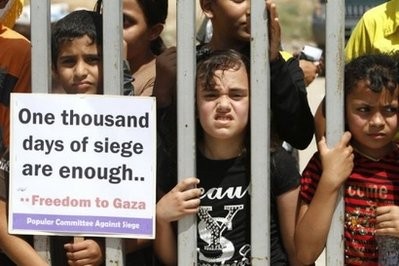 Palestinian children demonstrate to demand the opening of the crossings and the ending of the siege on the Gaza Strip in Gaza City on June 20, 2010.
The United States welcomed the announcement, saying it strongly backs Israel's plans to ease the blockade and believes it will greatly improve living conditions in the impoverished enclave.
"We believe that the implementation of the policy announced by the government of Israel today should improve life for the people of Gaza," White House spokesman Robert Gibbs said in a statement.
"We urge all those wishing to deliver goods to do so through established channels so that their cargo can be inspected and transferred via land crossings into Gaza," Gibbs said.
"There is no need for unnecessary confrontations, and we call on all parties to act responsibly in meeting the needs of the people of Gaza."
The announcement came after Israeli Prime Minister Benjamin Netanyahu met Middle East Quartet envoy Tony Blair, who said in an interview on CNN: " I hope in the next couple weeks they'll probably double the stuff coming into Gaza."
Israel will soon publish a list of banned items including "only weapons, material used in combat and problematic dual-use items. All goods not on the list will be allowed into Gaza," said a government statement.
It will also allow for the "expanded entry of dual-use building material" for projects authorised by the Western-backed Palestinian Authority with "international oversight."
Authorities plan to expand the operations of land crossings from Israel into Gaza that are currently open and to reopen other terminals if "security demands" are met.
The new plan also aims to "streamline the entrance and exit policy for humanitarian and medical cases."
Egypt, which has largely kept its own Rafah crossing with Gaza closed since 2006, earlier this month opened it for students, patients, visa-holders, and additional humanitarian aid. Related article: Germany blasts minister's blocked entry to Gaza
The announcement came ahead of a planned July 6 meeting in Washington between Netanyahu and US President Barack Obama, who has called the humanitarian situation in Gaza "unsustainable."
The entry of increasing amounts of construction materials for UN projects could allow for more desperately needed reconstruction after Israel's devastating 22-day offensive launched in December 2008 to halt rocket attacks.
Currently thousands of products -- some as banal as toilet paper and ginger -- are listed by Israel as constituting a "security" risk and prevented from reaching the territory's 1.5 million residents.
The list also includes construction materials, such as metal pipes and cement, which Israel fears could be used for building rockets and constructing underground bunkers and tunnels.
Israeli authorities had already expanded the list of permitted goods in recent weeks, allowing in snack foods, condiments and other household items.
Until now most such goods have been brought into Gaza through smuggling tunnels beneath the border with Egypt and sold at inflated prices, while Gaza's own factories have almost completely shut down.
The border closures came under renewed criticism after Israel's deadly commando raid on ships trying to run the blockade, in which nine Turkish activists were shot dead.
Israel has argued the closures -- imposed when one of its soldiers was seized by Gaza militants in a deadly June 2006 raid and tightened a year later when Hamas took over -- are needed to contain the Islamist movement.