Israel and the Vatican are close to concluding a historic bilateral accord on the legal and financial status of the Roman Catholic Church in Israel, the country's ambassador said Monday.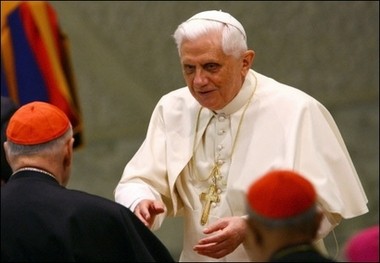 Pope Benedict XVI talks with cardinals and bishops at the Vatican's Sala Nervi, 28 November 2007 (Photo: AFP)
"We are very close to the conclusion of this historic accord," Oded Ben Hur was quoted as saying by Italy's ANSA news agency at a debate organized by a pontifical university in Rome.

The text under negotiation is the economic section of the fundamental agreement on relations the Vatican and Israel signed in December 1993.

"About 85 percent of the text has been examined and approved by the representatives of Israel and the Vatican," said the ambassador.

Negotiations on the text resumed in 2004 after a 10-year hiatus, and Ben Hur said the next round of talks will take place on December 13 in Israel.

The two sides are seeking to hammer out an agreement concerning the legal and tax status of Church property in Israel and the commercial activities of Christian communities there.

The Vatican is seeking tax-exempt status for Church institutions.