The Israeli air force carried out three raids early Thursday on the Gaza Strip after a rocket was launched from the Hamas-controlled territory at southern Israel, witnesses said.
The raids targeted areas east and west of Khan Yunes in the south of the Strip, and a base of Hamas's armed wing the Al-Qassam Brigades was hit, they said.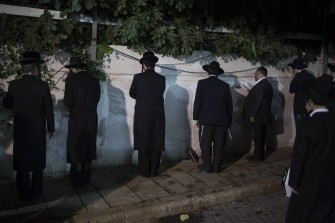 Ultra Orthodox Jews pray the tomb of Shimon Hatzadik in East Jerusalem's Sheik Jarah neighborhood, on October 26, 2011.
An Israeli army spokesman confirmed that aircraft had "attacked three terrorist sites in the Gaza Strip as well as an arms factory in the south of the territory."
A rocket was fired from the Gaza Strip late Wednesday at an area near Ashdod in southern Israel, without causing any casualties, a military spokeswoman said earlier.
The firing of the Grad rocket and the subsequent air raids were the first incidents since Israel and Hamas reached an agreement last week under which Israel agreed to release 1,027 Palestinian prisoners in exchange for its captured soldier Gilad Shalit.