Israeli warplanes attacked Hamas targets in the Gaza Strip, killing one person and wounding eight, the army and medics said on Saturday, a day after a rocket fired from the strip hit a southern Israeli city.
A Hamas militant was killed in an airstrike on a caravan near the Magazhi refugee camp in the centre of the Palestinian enclave, a Hamas official said. The Israeli military said the site was "a weapons-manufacturing warehouse."
Late on Friday aircraft fired at least four missiles at buildings used by Hamas security forces in Gaza City, wounding eight people, several of them seriously, said Muawiya Hassanein, the head of Gaza emergency services.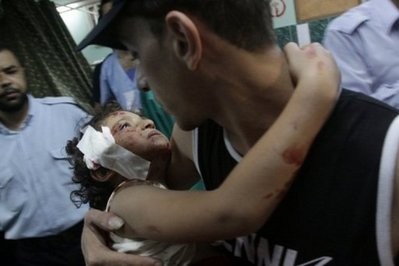 A man carries a wounded young child into a hospital following Israeli air strikes on Gaza City on July 30, 2010.
The site used to house the offices of Palestinian president Mahmud Abbas before his Western-backed Fatah party was ousted from Gaza by the Islamist Hamas in 2007.
Warplanes also hit smuggling tunnels on the border with Egypt without causing casualties, witnesses said.
Fearing further strikes, Hamas ordered the evacuation of all its security offices, a security source told AFP.
The Israeli military routinely responds after rocket attacks from Gaza, and the army said in a statement that it "holds Hamas solely responsible for terror emanating from the Gaza Strip."
The airstrikes came after a rocket fired by Gaza militants on Friday slammed into the southern Israeli city of Ashkelon, causing no casualties but some damage, and prompting sharp criticism from the United Nations.
The 122 mm Katyusha-type rocket landed next to a high-rise apartment building, damaging parked cars and shattering windows, the military said.
The United Nations condemned the attack, saying that "indiscriminate rocket fire against civilians is completely unacceptable and constitutes a terrorist attack."
Sirens gave the 125,000 residents a few minutes warning before the rocket hit a residential area.
The port city was frequently targeted by rocket fire from Hamas-run Gaza before Israel launched its devastating three-week offensive on the territory in December 2008.
Just over 100 rockets and mortar rounds have been fired from Gaza at southern Israel so far this year, compared with a daily barrage before the war, but most have not had the range to reach Ashkelon, 10 kilometres (six miles) north of Gaza.
"We call on the de-facto authorities in Gaza to ensure that these kinds of actions do not occur," a spokesman for UN Middle East peace envoy Robert Serry said.
"Violent actions must not be allowed to undermine progress in the ongoing talks between Israel and the Palestinians," he added.
Israeli Prime Minister Benjamin Netanyahu said on Friday that "Israel takes the firing on Ashkelon very seriously," according to his office.