Israeli Prime Minister Benjamin Netanyahu agreed with a key US envoy Wednesday that "meaningful" talks must start with Palestinians, but there was no sign of progress on the vexed settlement issue.
In a joint statement, the hawkish premier and US Middle East envoy George Mitchell said Israeli and US officials will meet again next week in the United States to pursue efforts to revive the moribund peace process.
The sides "agreed on the importance of restarting meaningful negotiations between Israelis and Palestinians and working toward a comprehensive peace."
"All sides need to take concrete steps toward peace," it added, avoiding however any direct reference to Washington's demand that Israel freeze all settlement construction in the occupied West Bank and east Jerusalem ahead of the renewal of peace talks.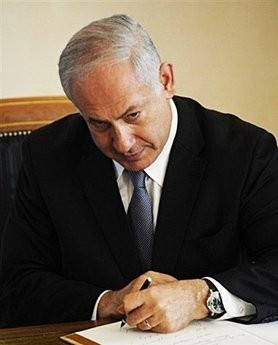 Israeli Prime Minister Benjamin Netanyahu signs the guest book at Bellevue Palace in Berlin
The statement was issued at the end of the premier's visit to London, during which Netanyahu also met British Prime Minister Gordon Brown, and shortly before the Israeli leader left for Germany, where he will meet Chancellor Angela Merkel on Thursday.
In Washington, a State Department official, who requested anonymity, said next week's meeting would be between Mitchell and Israeli Defence Minister Ehud Barak, "quite likely" in New York, where the US envoy lives.
Speaking to reporters after arriving in Berlin, Netanyahu said that "there are still a number of issues that haven't been finalised in our talks with the United States... there has been certain progress but there is still work to be done."
Merkel was also set to press Netanyahu on settlements.
"The German government believes that no further settlements should be built in the occupied territories," said a spokesman in Berlin, Netanyahu's second and last stop in a four-day European trip.
At the start of the talks with Mitchell -- renowned for his role in Northern Ireland's peace process -- Netanyahu said he hoped "we will shortly be able to resume normal talks" with the Palestinians, according to his spokesman.
Netanyahu has rejected a total freeze, insisting on the need to guarantee "normal life" in settlements which are home to 500,000 Israelis.
The Palestinians today condition the return to the negotiating table on a full Israeli construction freeze in occupied territory where they wish to build their future state.
With the international community backing the US demand, the Israeli prime minister finds himself trying to placate intense diplomatic pressure while keeping together his right-leaning coalition government.
Netanyahu has repeatedly insisted in recent days that the heart of the decades-old conflict was not the settlements, but rather the Palestinian refusal to recognise Israel as a Jewish state.
"The core issue is for them to recognise Israel as the state of the Jewish people. This is what started the conflict, what stokes it and what will end it," he said.
Israel and US officials are eyeing a three-way summit between Obama, Netanyahu and Palestinian president Mahmud Abbas next month on the sidelines of the UN General Assembly to signal the relaunching of peace talks.
First launched in 1993, the talks were halted last December after Israel launched a military offensive in the Hamas-ruled Gaza Strip.
The Guardian newspaper in London reported Wednesday, however, that Israel was nearing an agreement on a partial settlement freeze in exchange for tougher international sanctions against Iran over its controversial nuclear programme.
Mitchell is trying to get Arab states to make gestures towards Israel.
According to officials, Netanyahu wants Saudi Arabia to open its air space to Israeli aircraft and to engage in low-level diplomatic ties.
"The Saudis joining the circle of peace would help a lot strengthening peace," Netanyahu told reporters.