JERUSALEM (AFP) – Israeli police were on high alert on Friday as Palestinians called a strike in defence of the Al-Aqsa mosque compound following clashes at the flashpoint site sacred to Muslims and Jews.
"We have deployed thousands of people in Jerusalem and in the north of Israel following incitation by extremists," a senior police official told public radio.
Officials were particularly concerned about the situation in predominantly Arab east Jerusalem and Arab-Israeli cities.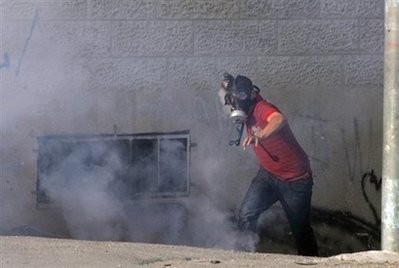 A Palestinian stone-thrower wears a gas mask during clashes with Israeli border police at the Qalandia checkpoint between Ramallah and Jerusalem. (AFP photo)
Palestinian president Mahmud Abbas's secular Fatah party on Thursday called for demonstrations and a strike in Palestinian territories, including annexed east Jerusalem, "to peacefully protest and to proclaim the attachment of the Palestinian people to their holy places and to Jerusalem as the eternal capital of the independent Palestinian state."
The party also condemned what it called "the complicity of Israeli forces with Jewish rightwing extremists" and accused them of "allowing (extremists) access to the mosque compound.... while denying it to the (Muslim) faithful."
Israeli police have meanwhile accused the Islamic Movement of inciting tension and this week briefly detained its leader, Sheikh Raed Salah, whom they said had made "inflammatory statements."
Salah, who has been arrested several times and spent two years in Israeli prison, has repeatedly called in recent days for Muslims in Israel and the Palestinian territories to "defend" the Al-Aqsa mosque against Israel.
Israel has decided to maintain restrictions on access to the mosque compound adopted on Sunday following a series of clashes. Only Muslim residents of east Jerusalem or Israel over the age of 50, with no restrictions for the women, are being allowed to attend Friday prayers.
The measure was adopted in a bid to avert further clashes but has also angered Muslims.
Palestinian foreign minister Riyad al-Malki called on UN chief Ban Ki-moon Thursday to intervene to prevent Israel from further ratcheting up the tension in Jerusalem.
Malki said he briefed Ban on "Israeli escalation measures against the Palestinians in Jerusalem and the actions the Israelis have been taking in recent days against Al-Aqsa mosque."
The clashes broke out in late September as Palestinians hurled stones at a group of visitors to the mosque compound they thought were rightwing Jews.
Police said the visitors were in fact French tourists, and responded by firing stun grenades.
The Al-Aqsa compound, known to Muslims as Al-Haram Al-Sharif (the Noble Sanctuary) and to Jews as the Temple Mount, has often been the flashpoint of Israeli-Palestinian violence.
The second Palestinian uprising, or intifada, erupted there in September 2000 after a visit by Ariel Sharon, a rightwing politician who went on to become Israeli prime minister the following year.
Analysts say tension is nowhere near what it was in 2000, but point out it could easily escalate.
"Perhaps Israel's assumption that the Palestinians are not interested in setting the West Bank on fire is accurate, but one soldier firing at stone-throwers, one demonstrator shooting at Israeli soldiers could turn the picture upside down," the Haaretz newspaper said in an editorial.