JERUSALEM, June 16, 2010 (AFP) - Israel's security cabinet was meeting early on Wednesday to debate a proposal to ease the terms of its four-year blockade on the Gaza Strip, local media reported.
The 15-member body was expected to vote on a proposal to "considerably" ease the blockade which was put together over several weeks of intense consultations with Mideast Quartet envoy Tony Blair, the Haaretz daily reported.
Israeli public radio said the security cabinet began meeting at about 08:00 am (0500 GMT) but it was not clear how long the debate would take, nor when they would be voting.
Late on Tuesday, a senior Israeli official told AFP that the body would "examine on Wednesday matters related to the Gaza Strip," without giving further details.
Earlier this week, an European Union diplomat meeting regional foreign ministers in Luxembourg said Israel had indicated it was ready to ease the blockade significantly.
"The indications we are getting from Israel is that they are willing to go from a positive to a negative list," the diplomat said, referring to a change from a list of permitted items to a list of banned items, with many more previously banned goods allowed in.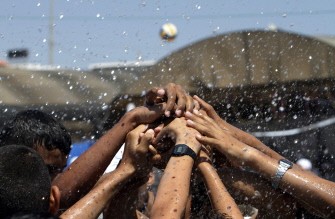 Palestinian children play at a summer camp run by the United Nations Relief and Works Agency on a beach in Gaza City on June 15, 2010. AFP photo
Blair said for his part that Israel has agreed in principle to greatly ease the blockade, allowing in everyday goods while ensuring arms and military material stay out.