A senior Palestinian official on Sunday condemned the death of a man shot dead by Israeli troops at a West Bank checkpoint, calling it a "dangerous escalation."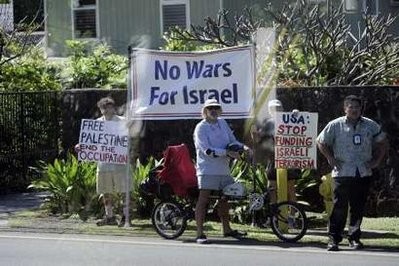 Protesters hold signs supporting Palestine as U.S. President Barack Obama's motorcade leaves the compound where he and his family are staying while on Christmas vacation in Hawaii in Kailua, Hawaii January 1, 2011.
Nabil Abu Rudeina, spokesman for Palestinian president Mahmud Abbas, condemned the death of Mohammed Daraghme, which came less than 48 hours after the death of a Palestinian protester who inhaled massive amounts of tear gas at a demonstration.
"The Israeli escalation in the last two days is aimed at demolishing any hope of a peace process, and we ask the US administration and the international community to take necessary steps to stop the dangerous escalation against the area," he told AFP.