Israeli soldiers on Tuesday shot dead a Palestinian teenager throwning firebombs at a Jewish settlement in the occupied West Bank, medics and the army said.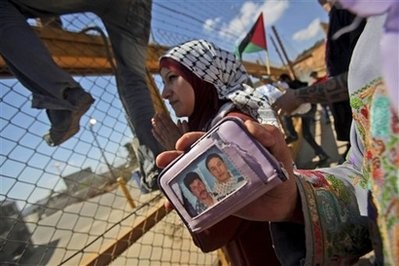 A Palestinian woman shows small portraits of relatives jailed in Israel while demonstrating with others outside the Ofer military prison between Jerusalem and the West Bank town of Ramallah, calling for the release of prisoners, Monday, Aug. 31, 2009.
Mohammed Riad Naif, 14, was shot outside the settlement of Beit El just north of the West Bank city of Ramallah and taken in serious condition to a hospital in Jerusalem, they said.
He died of his wounds several hours later, the Palestinian medics said.
An Israeli army spokeswoman said that soldiers fired at a group of three Palestinian gunmen who were hurling firebombs outside Beit El and identified hitting one.