Israeli aircraft attacked at least four targets in the Hamas-run Gaza Strip early on Saturday, wounding two people in retaliation for a rocket strike on Israel, officials said.
Two explosions were heard in Gaza City, one north of the city and one in the southern Gaza Strip town of Khan Yunis. Palestinian medics and witnesses said all the missiles appeared to land in open fields.
Two people, including a child, were lightly wounded, medics said.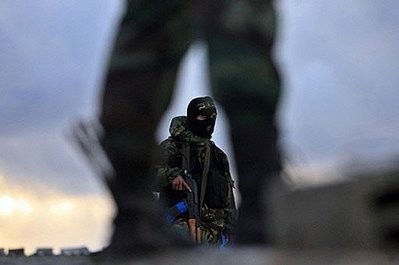 Islamic Jihad militants are seen in the Gaza Strip.
An Israeli military spokesman said warplanes had attacked two tunnels militants were digging in the direction of Israel, apparently to infiltrate the country and carry out attacks.
Israel routinely retaliates after rocket attacks from Gaza, and the latest air strikes came after a rocket hit the southern town of Netivot on Thursday without causing casualties.
"We will not tolerate any attempt to disrupt the calm in Israel's southern communities," the spokesman said.
It marked the latest violence along Gaza's border, which has been mostly quiet since a war Israel launched on the Islamist Hamas in Gaza on December 27, 2008 in response to rocket fire ended with mutual ceasefires on January 18.
The ceasefires have largely held, despite violations by both sides.