Italy's cabinet will meet by next Thursday to adopt a series of reforms to slash the budget deficit under heavy pressure from the European Central Bank and financial markets, Italian media reported on Wednesday.
"We have agreed to call a cabinet meeting by the 18th of this month and maybe we will even be able to bring this date forward," Prime Minister Silvio Berlusconi was quoted as saying during talks with trade unions and businesses.
Economy Minister Giulio Tremonti reportedly told the meeting that Italy's public deficit would go down from 3.8 percent of output at the moment to between 1.5 and 1.7 percent next year, and that budget balance would be restored by 2013.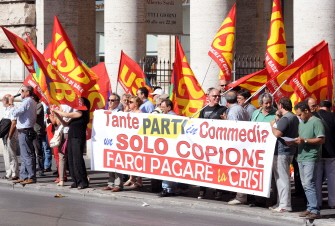 Employers of USB factory protest in front of Chigi palace, in Rome on August 10, 201, as Italian Prime Minister Silvio Berlusconi and his ministers have a meeting with all Italian Union leaders and the Confindustria.
Reports from participants at the meeting said that trade union leaders were united in rejecting proposals to overhaul the labour market and the pensions system, calling instead for a reduction in bureaucratic costs and privatisations.
Berlusconi announced on Friday that Italy will accelerate planned austerity cuts in order to return to budget balance in 2013 instead of 2014 as expected previously, but analysts have raised doubts about his ability to implement cuts.
The European Central Bank has intervened massively on Italian bond markets this week, helping to drive down borrowing rates from the record levels seen last week amid a panic sell-off, but has demanded drastic reforms in return