PARIS, April 5, 2011 (AFP) - Ivory Coast's embattled strongman Laurent Gbagbo is apparently "negotiating his surrender," Ally Coulibaly, the ambassador to France appointed by his rival Alassane Ouattara, said Tuesday.
"I believe Laurent Gbagbo is alive. I have learned that he is negotiating his surrender," the diplomat said on French radio RFI.
"Abidjan has become a rumour mill and I do not want to add to the disinformation. What I have learned is that since yesterday he (Gbagbo) has been seeking to negotiate. It is not too late," said the diplomat, a close advisor to Ouattara, the internationally recognised president of Ivory Coast.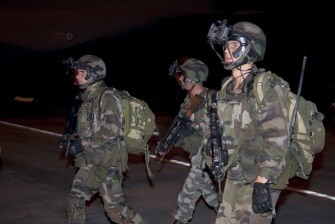 AFP - This handout picture released by French army communication audiovisual office ECPAD showing French soldiers upon their arrival at the Abidjan airport, early April 3, 2011.
Coulibaly said he did not know through what channels Gbagbo was negotiating or whether a mediator was involved.