A judge Monday removed Michael Jackson's mother as administrator of his estate as Los Angeles went into lockdown for a star-studded memorial service to which more than 1.5 million people were denied seats.
The acting mayor of Los Angeles said the pop legend would be buried at the city's well-known Forest Lawn Cemetery on Tuesday just ahead of the public ceremony, which will be broadcast live around the world.
On the eve of the service, lawyers for Jackson's 79-year-old mother Katherine clashed with two of the King of Pop's business associates for control of his estate which includes the Neverland Ranch and rights to Beatles songs.
A judge had named Katherine, who was close to her son throughout his life, as temporary executor of his estate shortly after the pop icon suddenly collapsed and died on June 25.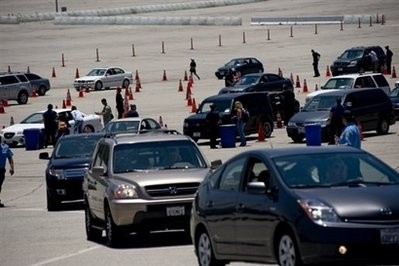 Cars wait on line to receive wristbands and tickets at the Michael Jackson Memorial Service ticket pick-up area.
But in line with Jackson's will, which emerged last week, Los Angeles Superior Court Judge Mitchell Beckloff on Monday handed the estate over to attorney John Branca and music executive John McClain.
Lawyers for Katherine Jackson had opposed the motion to appoint the two men, citing a "conflict of interests" and questioning whether Branca had a current relationship with Jackson at the time of his death.
"Mrs Jackson has concerns about handing over the keys of the kingdom just yet. She feels it is too soon," attorney John Schreiber said.
However a lawyer for Branca, a prominent entertainment industry attorney, said his client had recently been rehired by Jackson and was well known to the family. The business partners will control Jackson's estate until a new hearing on August 3.
The Los Angeles Times reported Monday that although the free-spending Jackson died owing more than 400 million dollars, his assets outstripped his debts by at least 200 million dollars.
Those figures also do not include the huge sums likely to be generated by posthumous sales of his music and memorabilia, which have surged and are expected to remain strong for months.
Police are preparing a large-scale operation for Tuesday's service at 10:00 am (1700 GMT), warning fans not to show up at the downtown Staples Center arena unless they were among the lucky few with tickets.
"Stay home -- stay somewhere with a television, with air conditioning, with a friend," Los Angeles Police Department assistant chief Jim McDonnell said.
The appeal came after 1.6 million people entered an online lottery hoping to be among 8,750 registrants to win tickets for the service at the Staples Center and a neighboring arena, where the event will be shown on giant screens.
Noemi Bertoguo, 30, a traffic warden from Turin, flew to Los Angeles immediately after Jackson's death and -- to her surprise and relief -- beat the 183-1 odds to receive tickets.
"I have listened to Michael Jackson since I was a little girl," said Bertoguo, who gave her other ticket to an Italian student she met on a fan site as none of her friends would come with her from Italy. "I can't believe it."
Online classifieds site Craigslist and Web auction house eBay were removing offers of tickets, saying it was inappropriate for a memorial service.
Organizers said music giants Mariah Carey, Lionel Richie, Smokey Robinson and Stevie Wonder would take part in the tribute the enormously influential Jackson, who sold 750 million albums throughout his career.
Others due to attend include basketball legends Kobe Bryant and Magic Johnson along with actress Brooke Shields, who dated Jackson in his heyday.
Acting Los Angeles mayor Jan Perry said Jackson would be buried shortly before the service at Forest Lawn, one of the city's best-known cemeteries which is the final resting spot of screen legends Humphrey Bogart, Clark Gable and Jean Harlow.
As preparations for Tuesday's memorial continued, investigators probing the circumstances of Jackson's mysterious death are reportedly looking at the role of five doctors who prescribed drugs to the star.
US media, citing unidentified law enforcement sources, said investigators found the powerful sedative Propofol among a variety of prescription medications at Jackson's home.
Propofol is commonly used in hospitals to induce unconsciousness in patients before major surgery. Healthcare experts say it should never be used at home and should only be administered by trained anesthesiologists.
Amid the flood of tributes, one Republican member of the US Congress, Peter King, lashed out at the media for their coverage of the late King of Pop, saying they should pay more attention to US troops fighting overseas.
"Let's knock out the psychobabble. This guy was a pervert, he was a child molester, he was a pedophile. And to be giving this much coverage to him, day in and day out, what does it say about us as a country?" King said.
Jackson was charged but acquitted in 2005 on allegations of child molestation.