Thousands of fans have paid tribute to Michael Jackson in his hometown of Gary, Indiana, while mystery remained over the fate of his children as a custody hearing was postponed until later this month.
On Friday, fans poured into the city where the "King of Pop" spent the first 11 years of his life, hoping to give him a final send off, as some of the region's most talented dancers and singers performed "Thriller," "Bad" and other hit Jackson songs.
Children and youths also mimicked some of their idol's moves, including the famous "moonwalk," a backward dance routine that first surfaced when Jackson performed "Billie Jean" during a 1983 television show.
"This is the origin of it all," said civil rights leader Jesse Jackson, who is not related to the show business family.
"This is where Michael learned to dance, where he learned to sing, where he learned to sacrifice," he added, saying the young artists singing and gyrating on stage were the real stars of the night, just like Michael Jackson.
Sporting a red shirt under a black suit and hat, Joe Jackson, the controversial father of the star who founded and managed the Jackson 5, made his entrance into the city's baseball stadium more than two hours after the tribute began.
The eyes of all 6,000 attendees were on the 80-year-old patriarch, who was surrounded by security guards and then photographers eager for a shot of the showbiz legend.
But Jackson, who has repeatedly fought back against his son's allegations of abuse, simply said hello to the ogling crowd at the Steel Yard stadium in Gary, located some 30 miles (48 kilometers) southeast of Chicago, Illinois.
A Los Angeles court on Friday delayed the custody hearing for Michael Jackson's three children, which will now take place on July 20. The hearing was pushed back from its original date of July 13 at the request of Jackson's mother and his ex-wife Deborah Rowe, the court said.
The star's 79-year-old mother Katherine Jackson has been named as the temporary guardian of Prince Michael, Paris and younger brother Prince Michael II, who was born to a secret surrogate.
But Rowe, who was married to Jackson from 1996 to 1999, has said she planned to fight for custody of her two children with the pop star.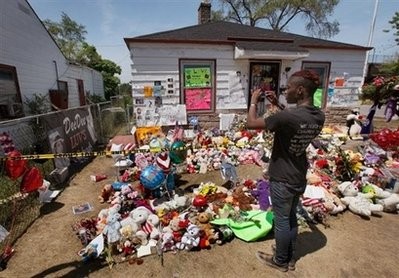 A visitor takes a picture outside the boyhood home of Michael Jackson in Gary, Indiana.
Friday's appearance by Joe Jackson followed the participation of the entire Jackson family in a massive memorial service at the Staples Center in Los Angeles on Tuesday.
Jackson has rarely returned or shown an interest in the city of 100,000 since leaving 40 years ago after the Jackson 5 recorded their first album in 1969.
Among the artists and youngsters who took to the stage was Chicago's Kwiet Storm, a four-person troop signed to the record label of hip-hop mogul Usher. The crowd enthusiastically stung the air with white gloved hands to their "Billie Jean" routine.
Vintage video of Michael Jackson's performances was shown on the huge scoreboard in center field while a banner that read "We never can say goodbye" hung above the stage.
Those lyrics from a Jackson 5 hit seemed to sum up the predicament of millions of fans across the United States in the two weeks since the pop icon's mysterious death from an apparent cardiac arrest.
The stadium in Gary was full of Michael Jackson devotees of all ages from across the country and around the world.
"Since I'm from Africa, I was really touched by all this, because he was always working for peace and a better Africa," said Dasaraden Mauree, a 25-year-old from Mauritania.
Mauree had driven with fellow student friend Shivani Rao 100 miles (160 kilometers) from Purdue University, in Lafayette, Indiana, to attend the tribute.
The Raiford and Williams families from New York City came together to the event, after finishing up a vacation in Chicago. All 16 of them waved white gloved right hands to all the Jackson tunes.
The two families had been memorializing the pop icon just two weeks ago outside Harlem's famed Apollo Theater, where Jackson first performed at the age of 9.
"When I heard about his death, it was just like it was family," said Tameka Raiford, 38, an elementary school teacher. "And since we were near Indiana, we couldn't go home without paying our respects."