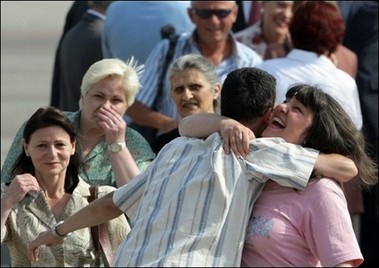 Bulgarian nurse Valya Cherveniashka hugs a relative as she arrives at Sofia airport (AFP Photo)
Six foreign medics jailed for life in Libya for infecting children with the AIDS virus were freed and flown to Bulgaria on Tuesday, after the European Union pledged to improve ties with Tripoli.
The five Bulgarian nurses and one Palestinian doctor, who have always denied the charges against them and say their confessions were extracted under torture, were pardoned on arrival in Sofia by Bulgarian President Georgy Parvanov.
The six touched down shortly before 10:00 am (0700 GMT) aboard a French presidential plane together with French first lady Cecilia Sarkozy and EU External Relations Commissioner Benita Ferrero-Waldner.
The medics were met at the airport by tearful relatives who had lobbied for their release throughout their eight-year ordeal, during which they spent three years on death row awaiting execution.
Libya said it had ordered their release after it was satisfied the conditions it laid down for extradition had been met.
"The matter has been settled. We received guarantees for the normalisation of relations with European countries and for a partnership agreement with the European Union," a Libyan official told AFP on condition of anonymity.
In Brussels, European Commission chief Jose Manuel Barroso confirmed that a deal had been struck on improving ties with Tripoli.
"I told (Libyan leader Moamer Kadhafi) that if this matter were settled we would do our best to further normalise these relations," he said.
Ferrero-Waldner said the release had cleared the way for "new and enhanced" EU ties with Tripoli, but did not go into details. "This is a day of joy," she added.
The EU currently has no bilateral agreements with Tripoli since imposing sanctions on Libya following the 1988 Lockerbie bombing, and has not started negotiations for an accord since UN sanctions were lifted in 2003.
The six medics were arrested in 1999 and convicted in May 2004 of deliberately infecting 438 children with HIV-tainted blood at a hospital in the Mediterranean city of Benghazi. Fifty-six children have since died.
They were originally sentenced to death but that was commuted to life in prison last week after a multi-million dollar compensation deal was hammered out with victims' families.
According to the Kadhafi Foundation run by Kadhafi's son Seif al-Islam, which has been involved in mediating the crisis, the compensation amounts to about one million dollars per child.
After their arrival, the medics were taken to a presidential residence on the outskirts of Sofia where they will undergo health checks before returning to their family homes.