Residents in Jakarta are sifting through mud and debris to salvage their belongings as floodwaters that had engulfed their homes in and around the Indonesian capital began at last to recede.
The slow clean-up operation got underway after days of flooding killed 50 people, according to a new toll, and forced several hundred thousand more to abandon their homes.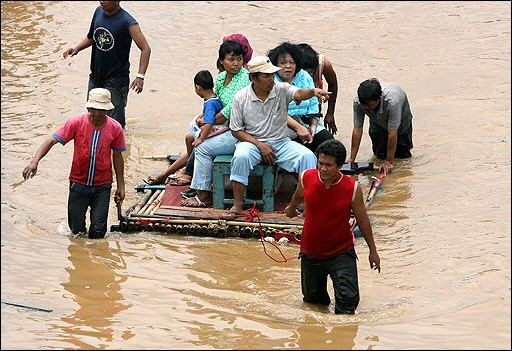 Jakarta begins clean-up as floodwaters recede.
However some 263,000 people were still holed up in temporary safe shelters across Jakarta and the neighbouring satellite towns of Tangerang, Bekasi and Depok, said Rustam Pakaya of the health ministry's crisis centre.
An official at the centre said the water level in many parts of Jakarta had now lowered significantly.
Television pictures showed residents sifting through the mud, other debris and the polluted waters around their homes to recover what they could of their possessions.
Others were already busy cleaning up and drying sodden belongings on their fences and roof.
Markets reopened, although there were fewer customers than normal and many people had to wade through the water to buy what they needed.
Jakarta police's traffic management centre identified 30 areas in the city and Tangerang where the floodwater levels remained high enough to render them inaccessible to traffic.
National Development Planning Minister Paskah Suzetta has estimated losses from the flooding -- in infrastructure damage and loss in state revenues -- at a minimum 4.1 trillion rupiah (453 million dollars).
The insurance industry could face claims reaching over 400 billion rupiah, said Frans Sahusilawane, chairman of the Association for Indonesian General Insurers.
Pakaya from the crisis centre said that by early Wednesday, there were no reports of serious diseases.
"What we have so far are mostly common diseases such as gastro-intestinal disorders, common cold, respitratory ailments as well as skin irritations," he said.
He warned people to maintain hygiene, saying that weakened body resistance because of the weather and conditions could lead to more health risks.
Officials warned of the risk of leptospirosis, which causes high fever and painful joints, and diseases such as diarrhoea, cholera and typhoid.
The meteorology office said no substantial rains had fallen on the capital since midday Tuesday but Jakarta governor Sutiyoso urged continued caution.
"We have to be prepared to anticipate (floods) until the end of the month," he said in an interview on Trans TV.
He said that with the help of police and military, safe shelters were being built in each of the city's five mayoralties to accommodate large numbers of displaced people.
More than 40,000 police, soldiers and volunteers have helped evacuate and bring aid to around 340,000 people who were displaced by the flooding, some of whom have since returned home.
Environment Minister Rachmat Witoelar has blamed the floods on excessive construction on natural drainage areas, but Sutiyoso said it was a "cyclical natural phenomenon."
Old Batavia, the former colonial port under Dutch rule from where Jakarta has expanded, was built on marshland and some areas of the capital are below sea level.