Flood waters receded in parts of Indonesia's capital on Tuesday, but huge areas remained submerged and officials were on guard for outbreaks of disease among the estimated 340,000 people displaced.
Businesses and officials were also trying to assess the economic impact of the floods, which have caused power blackouts, cut telecommunications and made many key roads impassable.
Tini Suryanti of the Jakarta health department said medical staff were trying to focus on sanitation to prevent disease.
Supplies of antibiotics were running low in the city, the Jakarta Post newspaper reported.
The floods have killed at least 36 people, Jakarta police spokesman, Ketut Untung Yoga Ana said by telephone. Most had either drowned or been electrocuted.
He said flooding in areas of the city -- which together with the suburbs is estimated to have a population of 14 million -- near the Ciliwung river had not improved.
"Other areas which are outside the passage of rivers are getting better," the police spokesman said.
WEATHER CLEARING
The city's downtown appeared to be relatively flood-free on Tuesday, although muddy flood water can appear and recede quickly as run-off from upland areas runs into rivers in the city.
Dian, a fitness instructor, said she was forced out of her home on the outskirts of Jakarta in the middle of the night this week by sudden floods. She is now staying with her brother.
"The water came in so fast, I kept imagining what a tsunami would be like," said the mother of a one-year-old girl, who like many Indonesians uses one name.
There was more heavy rain overnight in Jakarta, although the weather brightened on Tuesday. Massive traffic jams continued in some areas and several train stations were flooded.
Mohamad Sulistyo of the flood crisis centre said flood water remained up to 3 metres (10 ft) deep in the Kampung Melayu district in the east of the capital.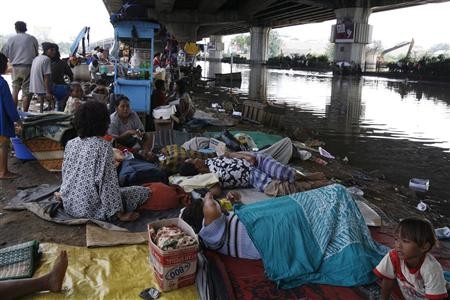 People sleep under a fly-over after fleeing from their flooded houses in Jakarta
"Jakarta has 44 districts and 40 are flooded," he said, without elaborating on the definition of flooded.
In some supermarkets there has been panic buying of essentials, while the U.S. embassy advised its citizens to keep adequate supplies of food and drinking water at home.
There has been some concern the floods could fan inflation, but the central bank as expected lowered its key interest rate on Tuesday, the ninth reduction in less than a year.
The rupiah and Jakarta stocks have also been fairly steady.
Indonesia's chief economics minister Boediono told reporters on Monday that he did not see a long-term impact from the floods on Southeast Asia's biggest economy.
"This is a temporary disruption," he said.
Power black outs from the floods have caused candles and power generators to sell out in many stores.
The insurance industry may face claims in excess of 400 billion rupiah (22.5 million pounds) from the floods, the Jakarta Post quoted the head of Indonesia's General Insurance Association as saying. Most Indonesians do not have insurance cover.