TOKYO (AFP) – Japan battled a nuclear and humanitarian crisis Friday as engineers worked to restore power to a stricken atomic plant while the toll of dead and missing from the quake and tsunami topped 16,000.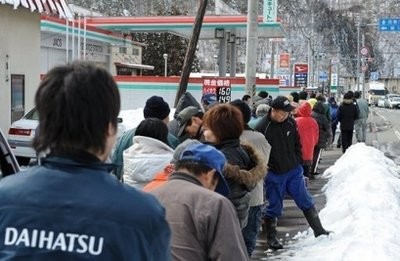 AFP - A moment of silence was observed in northeast Japan on Friday at 2:46 pm (0546 GMT), exactly one week after a huge earthquake struck, sending a devastating tsunami crashing into the coast.
Half a million people made homeless when the monster waves razed Japan's northeast coast were suffering in appalling conditions, struggling to stay warm in freezing temperatures and with scant supplies of food and fuel.
Thick snow covered the wreckage littering obliterated towns and villages, all but extinguishing hopes of finding anyone alive in the debris and deepening danger and misery for survivors.
"We're already seeing families huddling around gas fires for warmth. In these sorts of temperatures, young children are vulnerable to chest infections and flu," Save the Children's Steve McDonald said, estimating the disaster had left 100,000 children homeless.
But global concerns remained focused on the crippled Fukushima No. 1 plant, 250 kilometres (155 miles) from Tokyo and the fear that the earthquake and tsunami could be followed by a massive radiation leak.
Those fears have triggered an exodus of foreign nationals, particularly after Britain, France, Germany, Australia and New Zealand advised their citizens to leave Tokyo as well as the northeast region.
Japanese authorities have said radiation levels from the plant pose no immediate health threat outside a 20-kilometre exclusion zone, despite slightly elevated levels detected in Tokyo earlier this week.
The capital's usually teeming streets were quiet Friday, although some residents headed to work as usual. The city's neon glare was dimmed overnight, in line with a power-saving drive forced by shutdowns at other atomic plants.
"This town has become so lonesome at night, as many stores keep the lights off and close early," said Shin Fujii, who runs a Spanish restaurant where custom has slowed to just a few diners a day.
"As I try to get as much information as possible about the nuclear accident, I also see baseless rumours on the Internet as well. I just try to do the best I can."
At the Fukushima plant itself, disaster teams managed to get a power line onto the site in an effort to reactivate crucial water pumps to cool overheating reactors and prevent a calamitous meltdown.
"The power cable is near. We would like to speed up this operation as we can then use it to speed up the rest of what we have to do," said chief government spokesman Yukio Edano.
Military helicopters and a fleet of fire trucks were again on standby at the facility, ready to resume a huge water-dumping operation, to douse the reactors and containment pools and stop fuel rods from degrading.
"We poured water onto the number-three reactor yesterday. There is no doubt that water entered the pool, but we have not confirmed how much water is in there," Edano said.
"We will go ahead and continue to discharge water on the reactor this afternoon. The number-three reactor is the top priority."
The plant's operator Tokyo Electric Power Company (TEPCO) said overnight it believed the effort was bearing fruit, despite scepticism from some international experts who have viewed it as a desperate measure.
"When we poured water, we monitored steam rising from the facility. By pouring water, we believe the water turned down the heat. We believe that there was a certain effect," a TEPCO spokesman told reporters.
US Nuclear Regulatory Commission chair Gregory Jaczko had warned Thursday there was no water left in the spent fuel pool of the plant's number-four reactor, resulting in "extremely high" radiation levels.
The United States announced it was boosting radiation monitoring on the west coast and Pacific territories, as it seeks to allay public concern about radiation from Japan.
President Barack Obama also sought to reassure Americans, saying: "We do not expect harmful levels of radiation to reach the United States, whether it is the west coast, Hawaii, Alaska or US territories in the Pacific."
The UN nuclear watchdog, the International Atomic Energy Agency, said the situation had not worsened "significantly" over the past 24 hours but warned it would be premature to talk about a ray of hope.
Paving the way for a more direct role by the US military, the Pentagon said it had sent a team of experts to evaluate what assistance US forces could provide to the plant.
The official number of dead and missing after the twin disasters which hit a week ago has risen to 16,893, with 6,539 confirmed dead, police said Friday. The steadily increasing toll is expected to rise much higher.
A major international relief operation is under way for hundreds of thousands of people who were left homeless and millions who have been left without water, electricity, fuel or enough food.
Heavy blizzards over the country's northeast covered the tsunami-hit region in deep snow and vital highways in treacherous black ice, seriously hampering rescuers' efforts to help the devastated population.
Stretched Japanese authorities have asked for European Union relief to be coordinated to ease delivery to the devastated nation, Europe's aid chief said Thursday.
Humanitarian aid commissioner Kristalina Georgieva said that with over half a million people in shelters, the EU stood "ready to provide any help" in the face of requests for blankets, mattresses, water, water tanks, food and tents.
"Given the enormous difficulties in delivering assistance, Japan asked us to coordinate and bring together" relief in Europe, with a team at the other end working hand in hand with the Japanese Red Cross, she said.