TOKYO, April 15, 2011 (AFP) - The leaders of Japan, China and South Korea will hold a two-day summit in Tokyo from May 21, Jiji Press and other media reported Friday quoting Japan's top government spokesman Yukio Edano.
Japan's Prime Minister Naoto Kan will meet Chinese Premier Wen Jiabao and South Korean President Lee Myung-Bak to discuss issues including atomic safety and North Korea's nuclear ambitions, South Korea's Yonhap news agency said.
The Northeast Asian three-way meetings on regional and global issues started in their current format in 2008. South Korea hosted the meeting last year.
This year's talks will come more than two months after the massive March 11 earthquake and tsunami brought Japan's worst post-war disaster and triggered an ongoing nuclear emergency that has sparked global concern.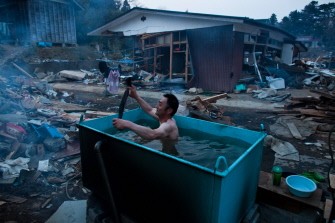 AFP - A resident takes an outdoor bath amongst tsunami devastation in Minamisanriku town, Miyagi prefecture in Japan on April 14, 2011. Japan's seismologists were so entrenched in outdated beliefs about seismic hazard that they became blinkered to the risk of the March 11 mega-quake.
Beijing and Seoul have sent quake rescue teams and offered other support to Japan, a country with which both have at times had testy relations because of their troubled shared history and ongoing territorial disputes.
Both China and South Korea have also voiced concern after Japan dumped 10,000 tonnes of low-level radioactive runoff water into the Pacific Ocean as part of emergency operations at its tsunami-crippled Fukushima nuclear plant.